Well, now we're back home in the USA, in our small community, in Erie, PA. Although we had an amazing time in Italy, we're so glad to be back home.
From the time we woke up yesterday morning, until we we got to bed, about 23 hours had passed. I'm not exactly sure how this came to be, but instead of flying from Rome to Philadelphia, our itinerary had us fly from Rome to Munich (on Alitalia) and then on US Airways from Munich to Philadelphia, and finally from Philadelphia to Erie. I didn't protest when I heard that was the plan, because I've never been to Germany, and I thought is would be fun to see that country, even for just a layover. In hindsight, though, more than one layover is never the greatest, especially when flying internationally.
The day before, we had driven from Gaeta (near Itri where Jim's maternal grandparents were born), to Rome, so that we would have time to get to the airport on Saturday morning. We spent a quiet evening dining in the hotel restaurant and organizing our belongings so that we'd be ready in the morning to check out, return the car, and board our plane.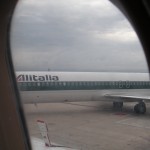 Mindful of the usual advice to arrive at the airport two hours early for international travel, that's what we did. And it's a good thing we did. Grabbing breakfast at the hotel was simple. During breakfast, we reflected on what a wonderful time we had in Italy and that evoked a bit of emotion from both us. We resolved to return again someday, especially after having done a better job of learning the language before doing so.
Getting to the airport was a piece of cake (relatively, if you've ever driven in Italy). We dropped the car off without a snag and were very glad to reliquish responsibility of it without even a scratch. Amazing when you think about all the pedestrians, cyclists, motor bike riders, and car drivers we dodged over a two-week period.
Finding the right terminal for Alitalia was a bit of a challenge, but eventually we got to the right location and tried to determine which line to get in. We didn't have our tickets, since this leg of the flight didn't involve US Airways, and the Website would not let us check in the night before. So we got into the ticket line, which decided to cease movement the moment we joined it. Then, we decided to see if we could get one of the kiosks to check us in. The response from the kiosk was that it needed more information, so we'd have to talk to an agent. So, we went to a counter agent who, in broken English, told us we were in the wrong area and that we'd have to go two aisles behind the one he was in. Argh.
After having already wasted a half hour in the wrong lines, we walked over to the next area and saw the longest line you can imagine. We got in it immediately and commented on how fast the line moved, considering how long it was. When we got to the ticket counter, we were again told we were in the wrong line. This person was pretty difficult to understand, too, but we realized that we were mistakenly in the domestic line. This wonderful agent, though, decided that she could generate tickets for us, even though we were in the wrong line. Not everyone would do that, would they? Thank goodness for people who can think for themselves! She told us, after printing the tickets, to go one more aisle over and stand in the line that said, "Baggage Drop-off Only," and she assured us that the line would be short. She also mentioned that we'd have to have our Philadelphia and Erie tickets printed in Munich and that we would do this at some transfer desk. So off we went. Now, relatively speaking, the baggage drop-off line, in comparison with all the other lines there, was shorter than the rest. We reached the front of the line, and amazingly, our suitcases weren't over the weight limit and we were also assured that our bags would be checked through to Erie, Pennslyvania (which in Italian, you pronounce the A as you would in lasagna).
Signage in the Rome airport could really use some upgrading, and that's not just beause we don't know the language. Luckily, we came across another traveler who was going to the same terminal as we were, so we followed him to security. Another long line. We got through security just fine and headed for the gate, which was a good ten-minute walk from security. I know this because at one point, a sign said it was six minutes away. And so, we got onto the Alitalia flight without a problem, bound for Munich.
In Munich, we didn't see any desk that said transfer, so we just headed for the terminal where US Airways was supposed to be. That took a while and involved a shuttle bus, but only after we had made a wrong turn and did some backtracking did we find the right location. When we reached the US Airways ticket area, we were met by a nice German agent, who asked us a series of questions before we were allowed in line. Who packed our bags? When was the last time we saw our bags? Did anyone ask us to carry anything for them? What about our carry on luggage? Had we added anything to that luggage since we went through security in Rome?
Wow, that was pretty intense questioning. We wondered if it was so because of the bombing and shootings in Norway the day before. Our answers satisfied the woman, so she let us through to the counter agent, who asked us why we hadn't taken the transport vehicle that should have been waiting for us when we landed in Munich. We told her that there was no vehicle waiting for us. She and a colleague looked very disturbed at this breach of customer service, and they apologized to us. But this meant we got to go through security again in Munich.
Eh, what's another security check anyhow, right? It's all in the name of safety. Maybe we'd even be able to have the pleasure of a full-body scan. We never did see a full-body scanner though. However, we actually went through two security checks in Munich. The second one was right before we got to the gates. At this checkpoint, we were treated to pat-downs, German style. No asking for permission, just immediate wanding and stroking. And they didn't even buy us dinner beforehand or offer us a cigarette afterwards. In addition, they went through each of our bags. The nice German security agent pulled my camera out of the bag and tried to take a picture of me. I had to explain to me that the battery had died, and he then put the camera back in the bag upside down, whereupon, I quickly righted it to his amusement. While I was reassembling my belongings, the next couple had come through, and he did the same thing with their camera, except theirs really did take a picture. What a nice souvenir, a picture of yourself looking intimidated by German security.
When we finally reached our gate in Munich, we saw that no one was boarding, and they should have been considering how late we were. Apparently, the plane needed a new fuel filter, so they would be installing that, doing some checks, and then we'd be on our way. Jim and I got something to eat and listened to each announcement regarding the status of our plane's maintenance. The filter was on its way. The filter had been installed. The engine was going to be tested, and then we'd start boarding. The engine was going to be tested, and then we'd start boarding. The engine was going to be tested, and then we'd start boarding–and if we were going to miss any of our connecting flights, we'd be reticketed before reaching Philadelphia. And finally, the engine had been tested and the captain was doing his final check of the plane. All in all, the plane took off about an hour later than scheduled, but that was okay with us, because we had a five-hour layover in Philadelphia to look forward to.
Our flight to Philadelphia was about nine hours long, and I don't do well with flights over four hours. When there were about five hours left to go, I began my traditional, 'I'm in a plane over water and there's no way to get out of here' mode. It's not a fear of flying at that point. It's just a frustration with being in a small, confined space. The muscles in my legs tense up and surely at that point, I could run a mile in under a minute or leap a tall building with a single bound. Walking up and down the aisle helps, but, because of turbulance, the captain and flight attendants implored us to stay in our seats, to not even visit the bathroom unless absolutely necessary. I managed to distract myself with looking at pictures from the trip, watching some TV and part of a movie, and reading, but then finally started to do a bit of writing in the form of hotel reviews, etc. for a Web site that I write for sometimes. And finally, we were in Philadelphia. Back home in the US of A. Hooray!
We had passes for the US Airways Club, so we got some refreshments there. During that time, we received a warm text from our son, Michael, welcoming us home. It was so nice to receive that message. Soon, I fell asleep. Nice way to pass the time in the US Airways Club, but I suppose I slept better there than I could have in the regular waiting area. I certainly was no company for Jim, though.
To my surprise, our flight from Philadelphia wasn't cancelled (which usually happens), so we landed in Erie at about 10:00 p.m. to be met by our daughter, Kasey, who had been our housesitter for the past two weeks. Our luggage didn't appear with everyone else's so Jim had gone to see about it, when Kasey walked into the baggage claim area and saw that I was lugging both my carry-ons and Jim's. She asked me if she could take one of the bags and I said, no, I'd rather have a big hug from her first. I was so happy to see her.
So, when Jim rejoined us, he said that our luggage was still in Philadelphia and that they would deliver it the next day. It turns out, that we were supposed to pick up our luggage from baggage claim in Philadelphia and then recheck it for Erie. Later, I recalled that procedure from when the girls and I went to St. Martin last year. But today, they did deliver our luggage, which only contained dirty clothes and Jim's shaver, so it was nothing we were fretting over. In the end, I thought that was pretty nice of US Airways to deliver the luggage when it was really our fault that it was left in Philadelphia.
It's great to be back home. Our daughter, Krista, called this morning from Cleveland, and we talked about how even though we go without seeing each other for two weeks all the time, we still missed each other a lot during the time Jim and I were on vacation.
I went grocery shopping today and knew every turn to take both in the car and with my cart. I chatted with the cashier who knows me at the co-op and zipped through the aisles at Wegmans. On the drive home, I marveled at the orderly lines of automobiles near the mall and on Interchange Road, venues that we consider crazy here in Erie. Tomorrow, it's back to work for both Jim and me, and I'm sure we'll both be looking at our efforts with fresh eyes and renewed enthusiasm after a two-week hiatus from the routine.
Italy Blog Posts:
A Two-Week Tour of Italy! Introduction
Suite 101 Articles:
Ann Silverthorn (Twitter: @annsilverthorn) is a versatile blogger who also writes about a wide variety of topics in numerous genres, including technology, travel, creative, and grant writing.