Here we are in Florence. Yesterday, when we were driving here, I mentioned that it would be nice if there were road signs for Florence, and that's when Jim informed me that the signs I was seeing for Firenze were actually for Florence. So confusing. The only things thses two words have in common is the first letter.
Because of the rental car issues in the morning, we missed our city tour, but we were able to catch a tour of the Uffizzi Galleries, which are located in a historic building that was originally used for government offices. We saw paintings by Botticelli, Michelangelo, and Leonardo da Vinci. It was so hot in the museum that people were actually getting sick and dropping out of the tour. I had to sit down at one point, but recovered quickly.
The hotel we're staying in doesn't have wireless in the rooms, and our smart phones don't work here, so I can't tell you what the temperature has been, but there are rumors that it's been around 100 degrees. We just sweat along our merry way, and it doesn't bother us too much. We're happy to be in Italy, and we've been drinking water like horses. It's supposed to cool down on Thursday.
We're staying at the Hotel De La Ville, and they have wired Internet in the rooms, but Wi-Fi only in the lobby at a rate of €5 for two hours. That's nuts. Last night, I did pay for the Wi-Fi, but tonight as I'm writing this, it's already 10:30 p.m., so I'm not going downstairs to spend two hours on the Internet, or pay €5 for a few minutes. This means that tonight, I can catch up on a few posts and upload them all whenever I can find Internet again, since we're leaving Florence tomorrow, and I don't know if the next place will have Internet.
For dinner last night, we just wanted something quick, but there's no Subway or Chipotle around here, so we ate at Le Guibbe Rosse, a touristy place on the Piazza Della Republica. Same food as the night before, salad, pizza, beer, and Tiramisu. My, we are classy. The restaurant had outdoor seating, and every so often a spray mist would fall from the awnings under which we were sitting. We chose this restaurant because of its proximity to the two young men with guitars who were performing in the square. I recorded one of the songs, and I'll upload it to Facebook if I can from here. I've also included a picture of their sign. It seems that I forgot to take a still picture of them. They played a lot of familiar tunes, which were made entertaining by their Italian accents.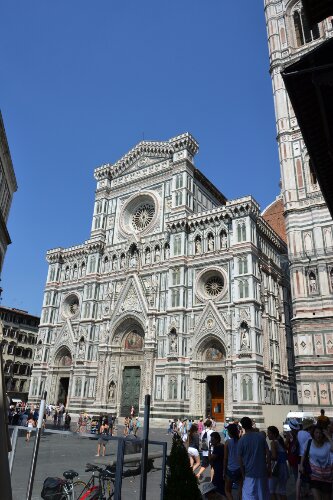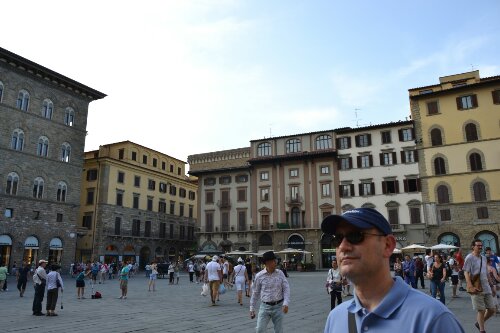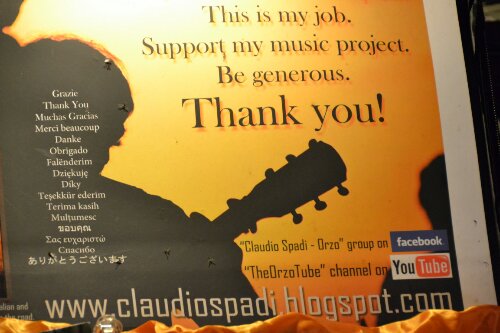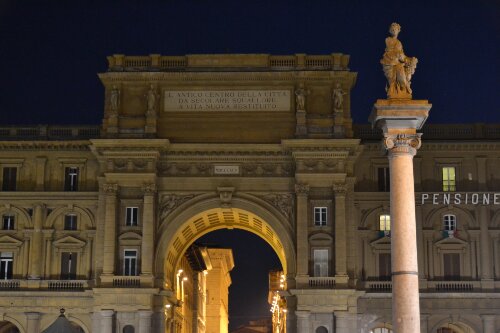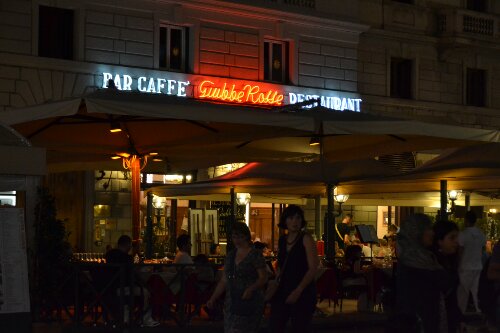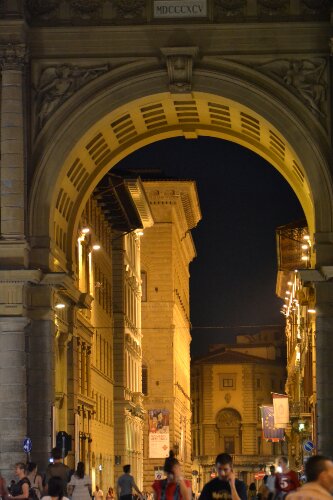 Italy Blog Posts:
A Two-Week Tour of Italy! Introduction
Suite 101 Articles:
Ann Silverthorn (Twitter: @annsilverthorn) is a versatile blogger who also writes about a wide variety of topics in numerous genres, including technology, travel, creative, and grant writing.