So, everything was going so smoothly yesterday as we left Capri. Breakfast at 8:30 a.m., shuttle left the hotel at 8:55, bought tickets for the SuperJet and left the Island at 9:35 a.m., and on the road out of Naples by 10:30 a.m. I hadn't even gotten sick on the trip back across the Gulf of Naples. Thank you,original-formula Dramamine.
After we picked up the car, we were riding on a brick road, and it was pretty bumpy, but it started to get even bumpier. Then Jim noticed a man in car pull alongside of our car, and he was gesturing wildly. Jim opened the window, and the guy was speaking in Italian and pointing at our car. Jim pulled over and got out. The passenger's side rear tire was completely flat. Uh oh.
Luckily this rental car had an emergency number posted right on the windshield. I never thought we would have to use it, though. We're very happy that we borrowed global phones from Verizon. We had trouble getting through, because we were dialing wrong, and when Jim pressed two for English, the voice was still speaking Italian. When he finally got through to a humAngelonean, that person didn't speak English very well, but we were able to describe where we were pretty well (a busy, six lane highway just south of the port of Naples). They said help would be to us in 30 minutes. Wow, that's a long time to have to wait on this street, I thought to myself.
About 15 minutes later a police car stopped, and two cops got out. The first one was nearly immediately accosted by another motorist who stopped and had some sort of issue. The other cop talked to Jim outside of the car. We thought we were in trouble, because if you're broken down in Italy, you're supposed to put a red triangle behind your car, and even though our car had one of them, we had forgotten to use it. It turns out that the policeman wasn't too concerned about that. He warned Jim to be careful when the rescue people came; that one of us should stay in the car, or if we had to get out, we should take all of our valuables with us in case they decided to steal the vehicle! Oh brother.
Then the police left, and I was wishing they had stayed. As cars, buses, and truck whizzed past us, we realized that it had been 45 minutes since Jim had called the emergency number, so he called again. The person on the other end of the line knew even less English than the first, so that conversation took a while, but during it, Jim found out that there was no spare tire for the car and that, they would be towing it. We would have to take a taxi to the Naples airport and pick up a replacement car. If we were lucky, the tow-truck guy might allow us to ride with him to the garage, and we wouldn't have to wait along the side of this busy road for a cab. We were told that it would be another 20 minutes.
Finally, the truck arrived, and a tiny, old man emerged. He spoke absolutely no English. Through imaginative sign language, we determined that he thought it'd be okay for us to leave our stuff in the car while he drove it onto his truck. But the police said not to do that! So we grabbed our carryons and such, and he drove our rental car onto the truck. Then, he gestured for us to get into the front of the truck with him. We then wound our way through some of the more "interesting" streets of Naples with garbage strewn along the curbs and in piles that looked like they hadn't been picked up in weeks.
Finally, we turned into an alley and down a driveway to what looked like an entrance to an underground garage. We got out of the truck, and the little man started his production of getting our car off of his truck. Some lawn chairs lined a wall, and in two of them sat an old man and middle-aged man watching us, and also watching the guy who had picked us up, and another man, about forty-years-old, who looked to be in charge and was speaking to a young couple about their car that looked like it had a dead battery. They all seemed to know each other and were hanging out like at the filling station in Mayberry.
After the young couple had been taken care of and had left, the boss turned his attention to us. The little man put some air in our tire, and it whistled out as fast as he put it in. They all shook their heads at us. This tire could not be repaired. The boss got on the phone with the emergency company, and we were very happy that the Italians could speak to each other and decide what to do with us. Bossman spoke a little bit of English, and when he got off of the phone, he said we would have to take a taxi to the airport, but that he had to wait for the emergency people to call him back to see how payment for the tow should be arranged. Around this time a police officer in a uniform, but what appeared to be his own car pulled in and hung around a bit, before taking off again. We figured these must be good people, assuming that the policeman was a good guy.
The old guy sitting in the lawn chair then motioned to me to have a seat next to him, and I gratefully sat. The middle-aged guy sitting next to him lit up a cigarette. Immediately the old guy started to admonish the younger, and the smoker got up and moved away. Through creative sign language, the old man let me know that he hated the smell of cigarette smoke. Buddy, I couldn't agree with you more.
After another ten minutes or so, bossman explained to Jim that because it was Sunday, he was technically closed. To wait around for the call back, and then for a taxi, which would take 20 minutes, was not what he wanted to do. So, he said the service would be gratis and that he would take us to the airport, if that was okay with us. Absolutely! So within the next 20 minutes, we were at the Europcar office saying goodbye to our new friend, Maurizio Angelone, from Garage Primavera. I had asked him for his name and address, so I could send him a thank you. Jim expressed his thanks with some Euros, which seemed to make bossman happy.
Now, we wondered what kind of car we would get on such short notice. We needed an automatica, which are in short supply here. Amazingly, they had three, but they were all Volvo station wagons, bigger that what we had just had, the Volvo S-60. What choice did we have? Neither of us was about to suddenly learn how to drive a stick. So, now we're driving the biggest car in Europe. It's also brand new and had less than 25 miles on it, when we picked it up. It also has a GPS, which is seriously outperforming the TomTom that Jim brought along on the trip.
Once we had gotten back on the road, Jim and I cornily high-fived each other and headed to the next stop, a town near where his paternal grandparents were born. More later. Thanks for reading. Leave a comment!
Photos:
1. Beach on Capri.
2. The hydrofoil we took to get back to Naples.
3. Bossman doing some paperwork and a shot of our flat tire.
4. The location of the garage.
5. Along the road, once we actually got on the road.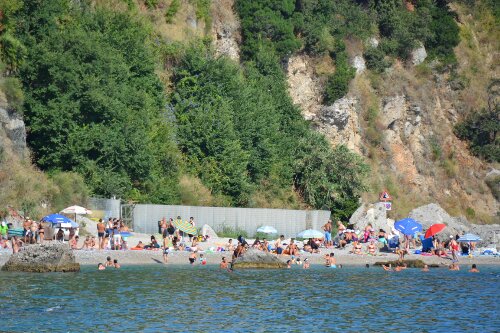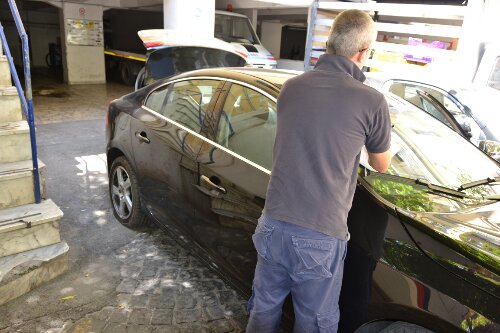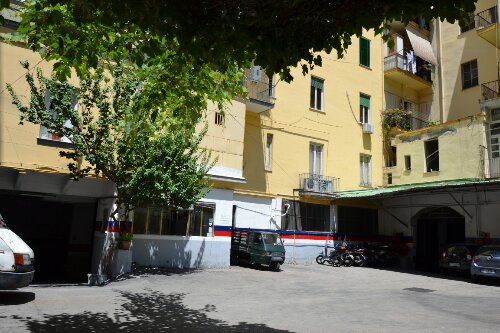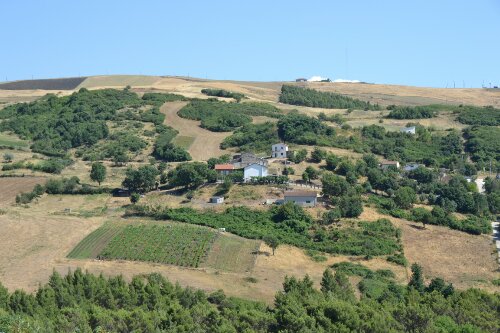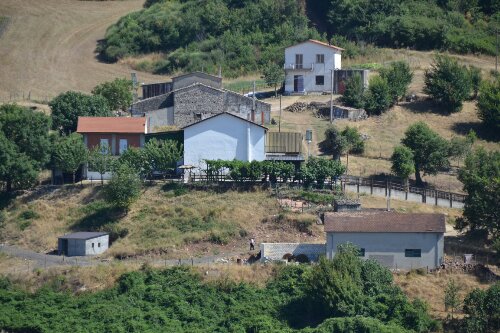 Italy Blog Posts:
A Two-Week Tour of Italy! Introduction
Suite 101 Articles:
Ann Silverthorn (Twitter: @annsilverthorn) is a versatile blogger who also writes about a wide variety of topics in numerous genres, including technology, travel, creative, and grant writing.