So if you want to be comfy and cozy, then it makes sense to stay home. Traveling definitely takes you out of your comfort zone. For months, we planned this Italy trip. We invested in Rosetta Stone to learn the language, researched what to wear and what to bring on the trip, arranged for a housesitter, and made countless other OCD-type preparations.
Everything went so smoothly during those months, with the exception of buckling down on learning the Italian language. I decided early on that Jim should be the power user. . . And he certainly has a better grasp of the language than I do. What also went smoothly was that our flights were on time, even though we went through Philadelphia, which is notorious for stranding travelers.
This time, we got out of Philly nice and quick, but  a little too quickly, because apparently our luggage didn't hear the boarding call. Now, looking on the bright side, I decided to bring my carry on with all the essentials. It, curiously, was pulled out for special screening, and when the TSA worker was finished rearranging everything I had fastidiously organized, he called over to his colleague, "Eh, it's mainly cosmetics and stuff."  Hmmph.
After waiting patiently for quite some time at the baggage carousel in Rome, it became apparent that the sherpa members of our party were not going to be joining us very soon. And, unfortunately, there's only one flight from Philadelphia to Rome on U.S. Airways each day. So we gave the clerk our itinerary info for the next couple of days and went on our way to the hotel.
Since our flight was essentially a transatlantic red-eye, we caught a few winks at the hotel before heading out on our Ciao Roma hop-on-hop-off bus tour. It's officially hotter than Hades here, and the bus wasn't air conditioned, so you can imagine what condition the clothes on our backs are in. That overnight bag didn't have any PJs in it either. The bus for our in-depth tour picks us up at 6:45 tomorrow morning, so we should look even more rumpled then. But at least I don't have to obsess about what to wear.
U.S. Airways was able to assure us that our luggage is not lost. It is merely delayed, so I have great hopes that it will be here by the time we get back from our tour tomorrow. If it's not, that's quite a problem, because we'll be headed to Florence by then. Well, if not, it's a great excuse to shop.
Well enough about our luggage. Today we went to the Trevi Fountain but didn't throw any coins in. We also had a a great dinner at a place nearby where we're staying called Enoteca Barbarini. Jim had gnocchis, and I had veggie lasagna. Both were scrumptious. The waiter invited us back for the live jazz music, but it's 9:15 p.m. here, and we're about to drop. More tomorrow!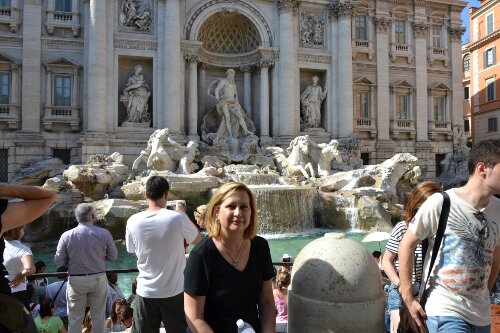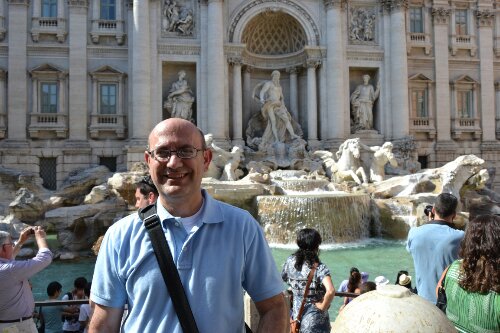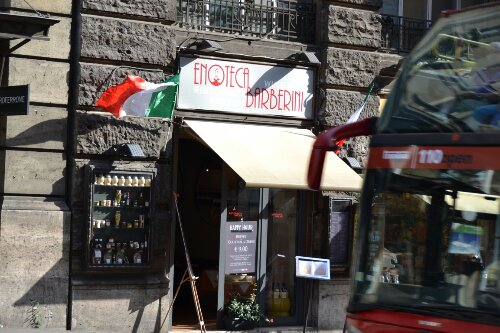 Italy Blog Posts:
A Two-Week Tour of Italy! Introduction
Suite 101 Articles:
Ann Silverthorn (Twitter: @annsilverthorn) is a versatile blogger who also writes about a wide variety of topics in numerous genres, including technology, travel, creative, and grant writing.