Yesterday, we drove 40 minutes from our hotel in Lucera (Grand Hotel Vigna Nocelli) to the hometown of Jim's grandparents, Troia, in Puglia, which is located on the eastern side of the mountains, and Naples is on the west coast of Italy.
Jim had done quite a bit of research over the past few years, so he knew that his surname, DeDad, had been shortened from the original, DiDedda. He warned me before we went to Troia, that it was very small, and that we might not spend much time there, other than to see where his grandparents were born, and also to see if any activities were going on, because our visit would be taking place during the Cathedral of Beata Maria Vergine Assunta in Cielo's celebration of its six patron saints, Eleuterio, Ponziano, Anastasio, Secondidino, Urban, and Anza. The cathedral was built in the 13th century and contains stones from Roman structures that even older.
We were pleasantly surprised to find the most charming town set at the top of a small mountain. The ride up the mountain was a bit intimidating, with plenty of curves and switchbacks. Troia's origins date back to the 10th-century, BC. The city has changed hands many times since, sometimes laying abandoned for centuries. Today, approximately 7,000 people live there.
We walked from one end of the town to the other and found a street that was named after a DiDedda, but we couldn't find the two streets that Jim's grandparents were born on. We saw a woman walking around putting things in mailboxes, so we assumed she was a mail carrier, but she might have just been delivering flyers. In any case, we figured she'd know if the two streets existed anymore, so Jim showed the copies of his grandparents' birth certificates to her, and she was able to point him in the right direction. Soon, we were standing in front of the two homes.
While we were in Troia, we found a poster that listed the full schedule for the three-day, patron-saint celebration. At noon, a band was scheduled to play in the piazza near the Cathedral, so we listened to them for a little while.
When we got hungry, we bought some lupines (lupini beans) from a street vendor and found a place to sit down and eat them. They were good, but the ones Jim makes are better. If you're not familiar with lupines, I'll give you a short description. They are dried beans about the size of a Lima bean that you boil and then soak in salted water for a week or so, To eat them,  you bite off the end of the bean's skin and pop the soft inner bean into your mouth. Jim's family usually enoys them during the Christmas holidays, along with cauliflower patties, but that's a story for another day.
We enjoyed our time in Troia so much we decided to come back at eight o'clock that evening to watch the procession through the town honoring the patron saints. An account of that event will be included in the next post. Ciao for now.
Photos:
1. Entering Troia.
2. The Cathedral in Troia. see the lights in the foreground ready for the procession in the evening.
3. A Troia band put on a concert in the afternoon.
4. View from the Cathedral steps into the piazza.
5. A poster with the celebration's schedule.
6. A little girl plays with her mom's hair during the concert.
7. This puppy was so cute.
8. Another church in Troia, near the cathedral.
9. Inside the church. The Blessed Sacrament is displayed all the time, so anyone can stop into the church at anytime and see it.
10, 11, 12. Scenes I found interesting.
13. A street vendor.
14. Lupines and olives.
15. Portion of the map of Troia that shows a street named for a DiDedda.
16. The full map of Troia.
17. The DiDedda street plaque.
18. A priest.
19. The house where Jim's grandmother, Maria Lezzi, was born in on Via Santo Spirito.
20. The house that Jim's grandfather, Giuseppe DiDedda was born in on Via Sabito.
21. Another view of where Jim's grandfather was born.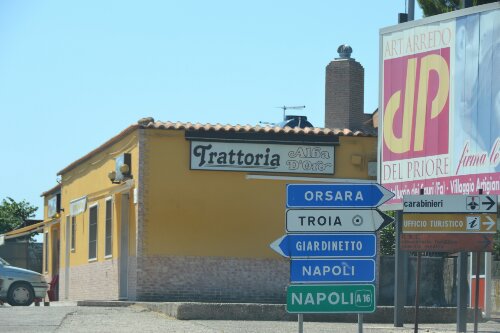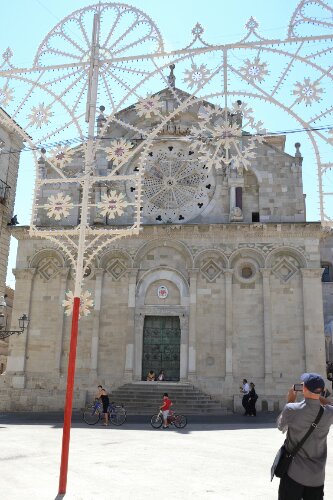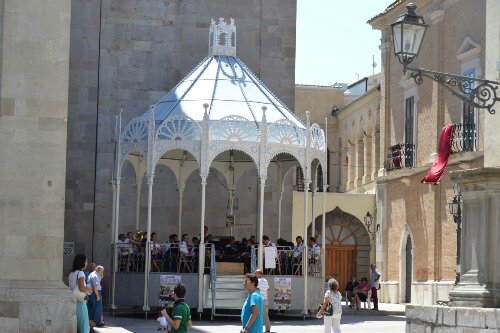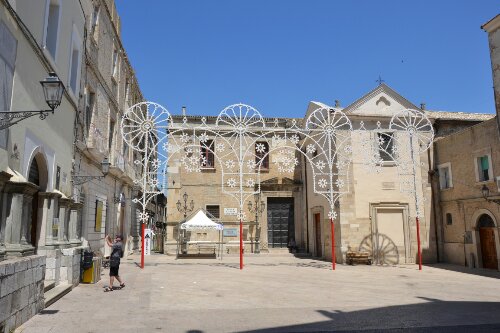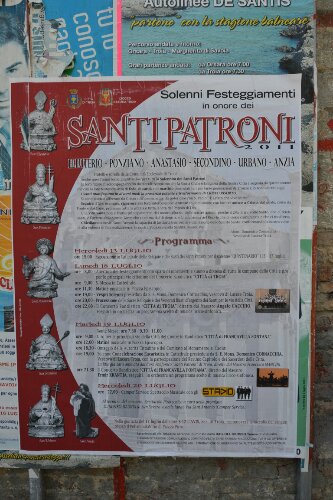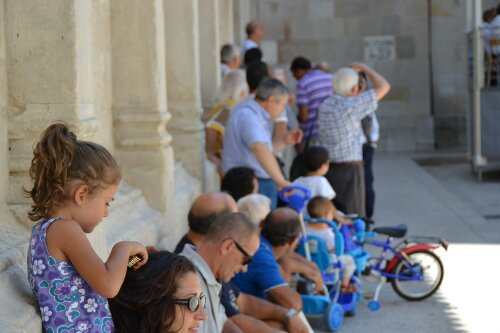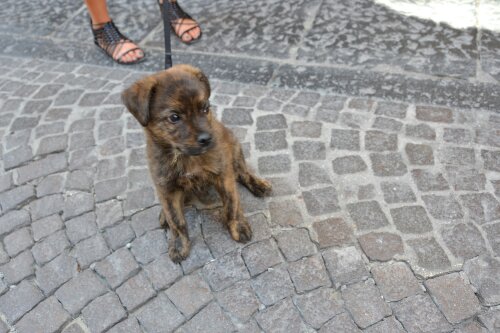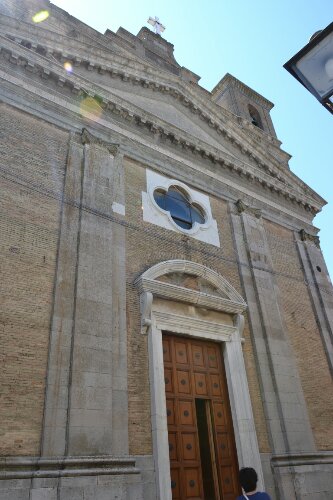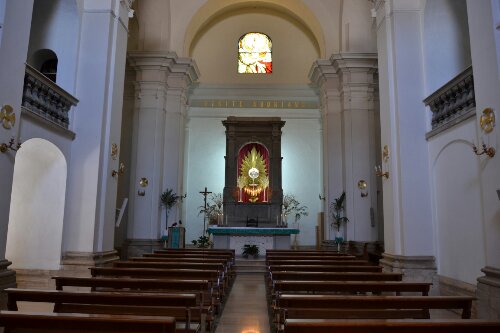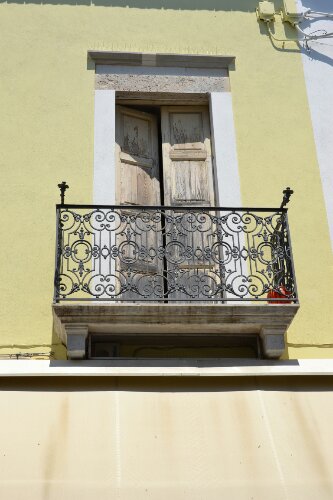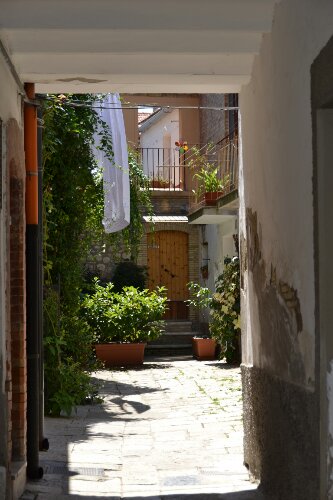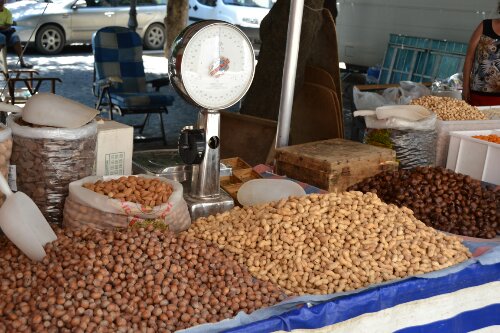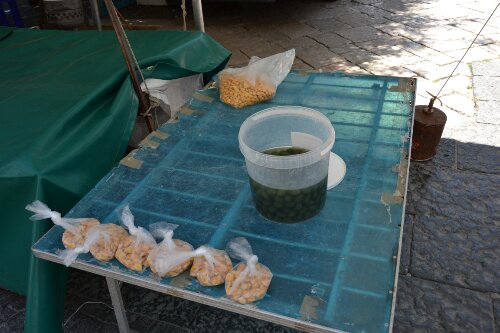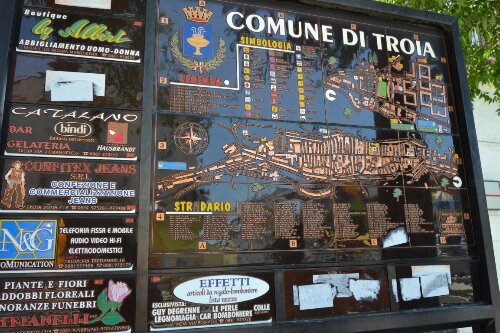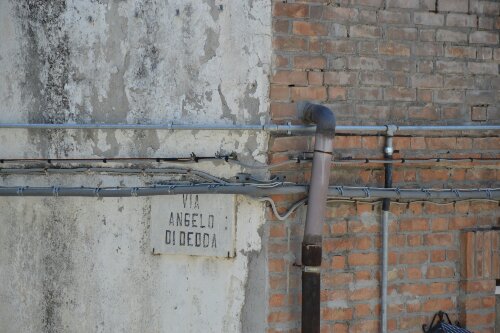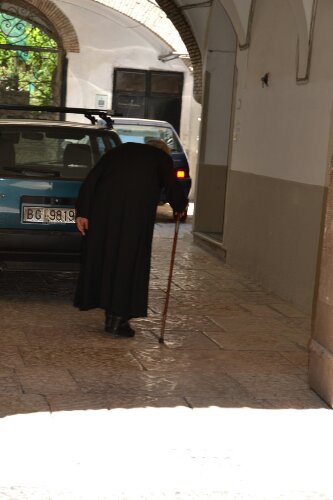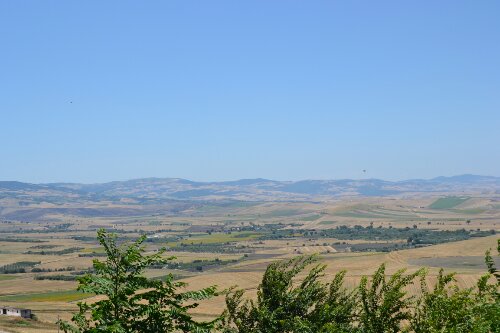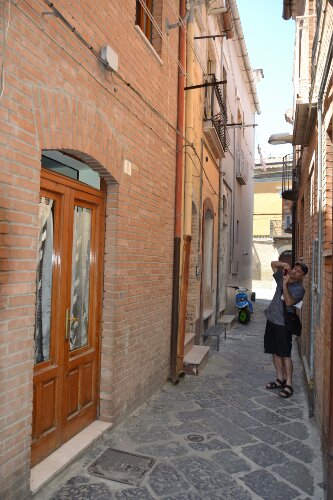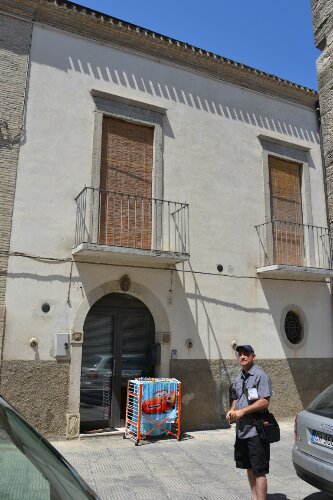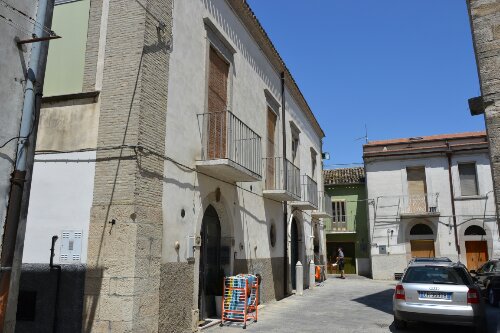 Italy Blog Posts:
A Two-Week Tour of Italy! Introduction
Suite 101 Articles:
Ann Silverthorn (Twitter: @annsilverthorn) is a versatile blogger who also writes about a wide variety of topics in numerous genres, including technology, travel, creative, and grant writing.