For the last two days of our vacation, we stayed in Gaeta, a seaside town south of Rome, for its proximity to Itri, which is where Jim's maternal grandparents were born. Itri is much larger than Troia, where his paternal grandparents came from.
When we were in Itri, we enjoyed the pool at our hotel, Villa Irlanda and explored the medieval castle that sits high on a hill in Itri. Jim tried to find some relatives there, but no one that we encountered in Itri could speak English. They did recognize the family surnames, Picano and Arzano though, and one woman seemed to have a connection to the Arzano name. At the church, there was an area that listed names and Jim saw several Arzano and Picano mentions there. We tried to locate the home of a cousin who still lives there, but we were not successful. We also saw signs for a sanctuary for Madonna della Civita, but had difficulty finding it. We followed some signs that took us up a steep road, and as we got higher and higher, we became more nervous, not knowing how the road would be as we went further and worried that we might not be able to turn around.
One reason this type of situation makes me nervous is a memory from my early childhood in California. My parents, two brothers, grandmother, and I were out for a pleasant Sunday drive, and our meandering took us up a mountain road. As we got higher and higher, the road became more rugged, and then suddenly, it ended. Imagine this. On the driver's side of the station wagon a wall of rock. In front of the car, a wall of rock. On the passenger side of the car, a sheer drop. In the rear of the car, a rugged road. I have to hand it to my dad for keeping his cool and performing a many-point turn to get us out of there. I suppose having a screaming three-year-old in his ear didn't help. Several years ago, I asked my dad if it really did happen, and he verified that it did. This is why I don't relish mountain roads!
After thag short diversion, back to Itri. It was really great that we were able to visit Italy when the two towns, Troia and Itri, were having their major festivals. If you'll recall, Troia, celebrates six patron saints. Itri celebrates a miracle with the Madonna. It has something to do with a painting of the Madonna appearing in a tree in the mountains above the town. The Madonna della Civita has been dear to Jim's family because Jim's grandfather and some friends commissioned a statue of this version of the Madonna and donated it to St. Paul's church in Erie's Little Italy, where they lived. It is still displayed at the church today, and a similar procession with that statue and others happens each summer.
Since we walked in the procession in Troia, Jim wanted to do the same in Itri, and we did that this morning. it was nice winding around the streets of the town, because it gave us a chance to observe the homes more closely than if we had driven or quickly walked through. We noticed that from the balconies hung the prettiest tablecloths, many lace or embroidered and handmade.
After the festivities, we were to drive to our hotel near the Rome airport. We set the GPS, and to our surprise, the route was to take us up the mountain road from the day before when we were looking for the sanctuary. I was pretty nervous, but realized that we were seeing cars coming down from the mountain, so it was probably passable. As we got higher and higher, amazingly, we saw another sign for the shrine, and we were able to take a short diversion to visit the sanctuary and take some pictures. It was meant to be for us to visit the Madonna della Cvita sanctuary, I guess.
So, our vacation its at an end. We had a fantastic time and made memories that will last forever. Tomorrow, we will head back to America. We're excited to be reunited with the people and places that make our home sweet home.
Photos:
1., 2. Scenes from the car on the way to Itri.
3., 4. Signs for Itri and for the Madonna della Civita sanctuary.
5. To 11. Scenes from around the Castello Medieval in Itri.
12. Poster for the Madonna della Civita celebration.
13. A look inside the Itri church, Chiasa di Santa Maria Maggiore. The statue is on the altar.
14. A plaque in the church.
15. The pool at the hotel in Gaeta, Villa Irlanda, where we stayed close to Itra.
16. Hotel sign.
17. & 18. Jim took these pictures in the gardens at Villa Irlanda.
19. Outside of the Itri church.
20. While waiting for the procession to start. Things you wouldn't see in America, a balloon on a stick and a toy handgun without the orange tip on the barrel.
21. How you eat french fries in Italy.
22. Cats in Gaeta. Probably not many rats in Gaeta.
23. Procession in Itri.
24.-27. The Sancturio della Madonna Civita high up on a mountain.
28.-29. Scenes from the sanctuary.
30. On our way to the Rome airport. We don't know what this is being built.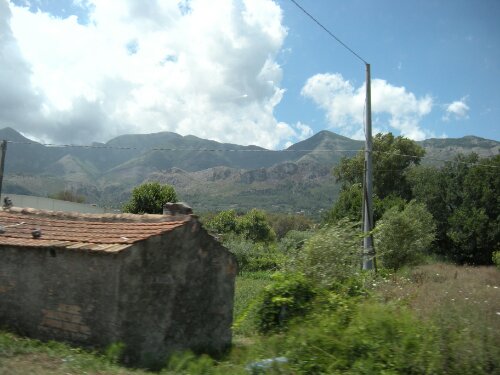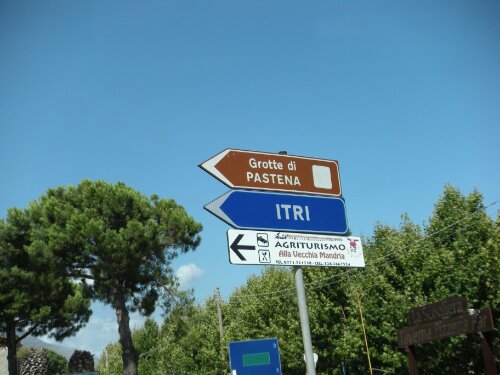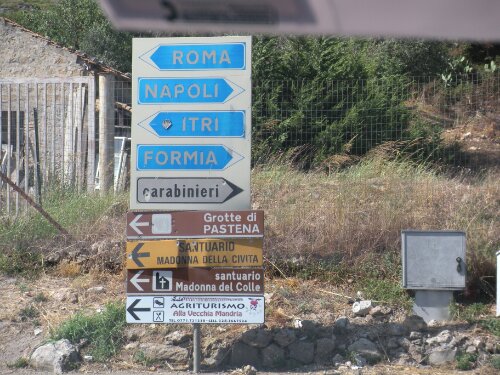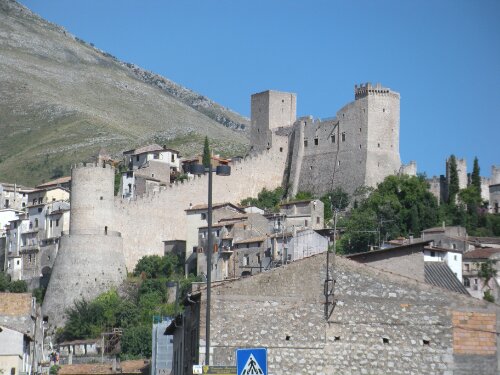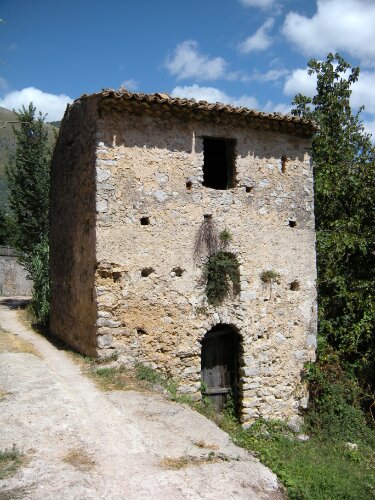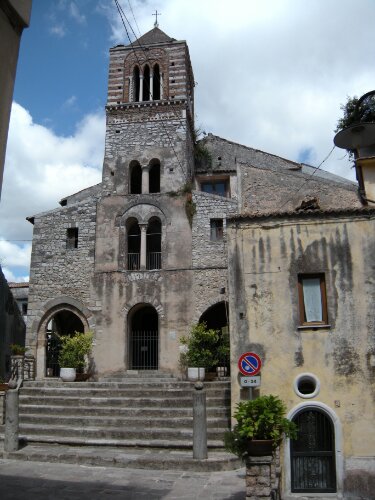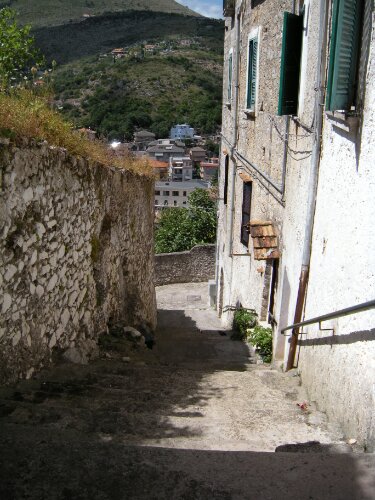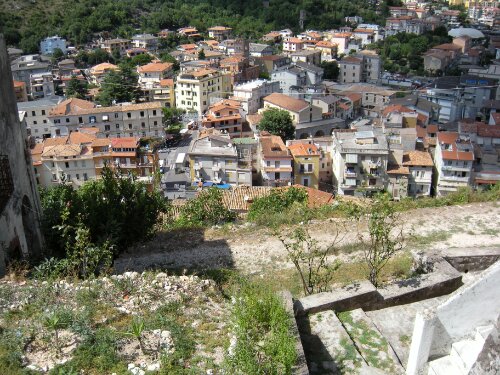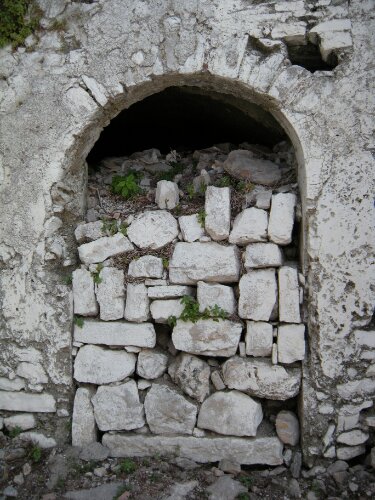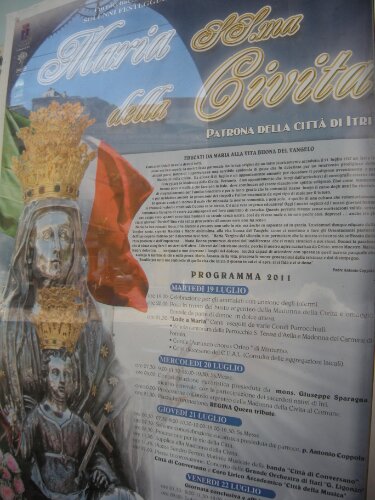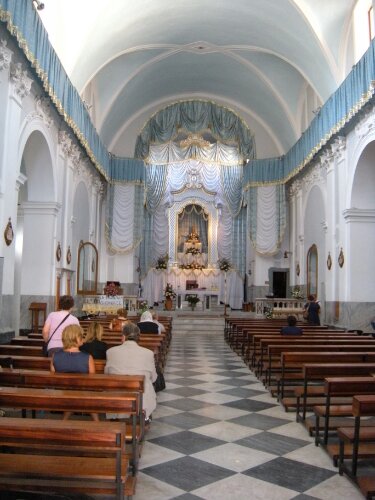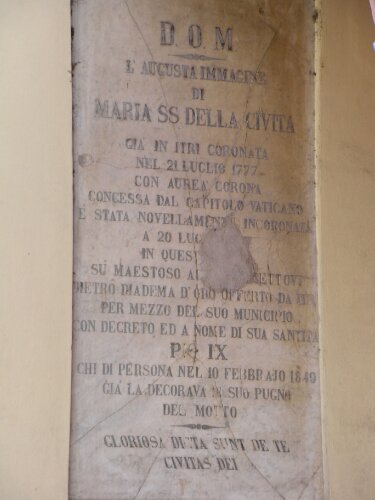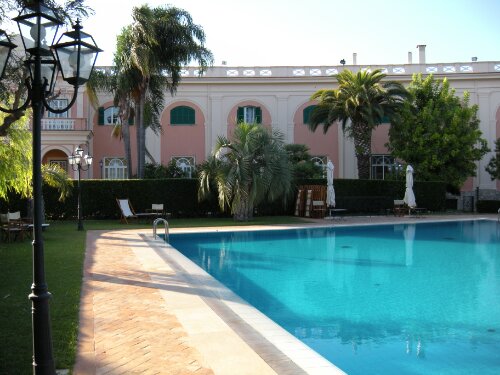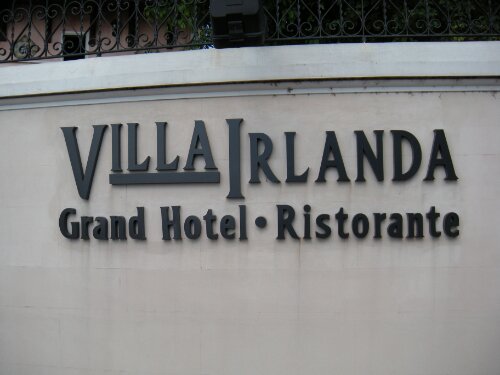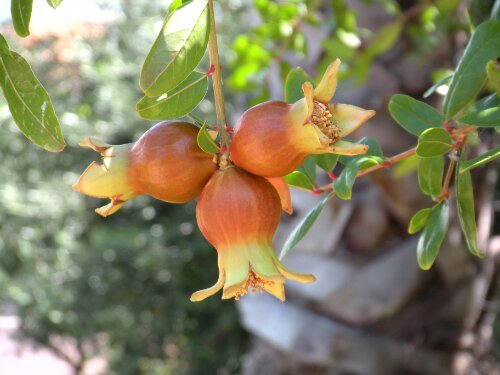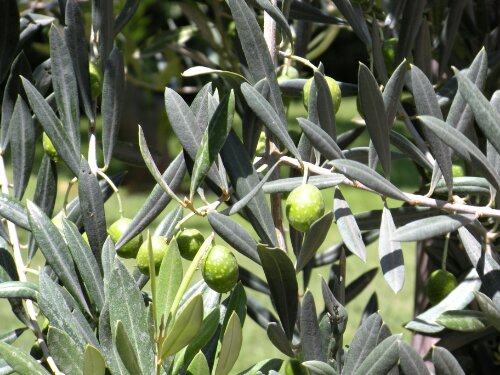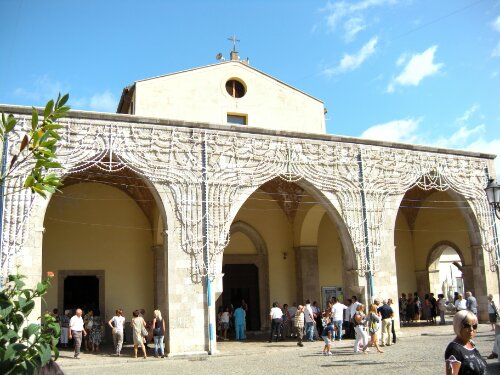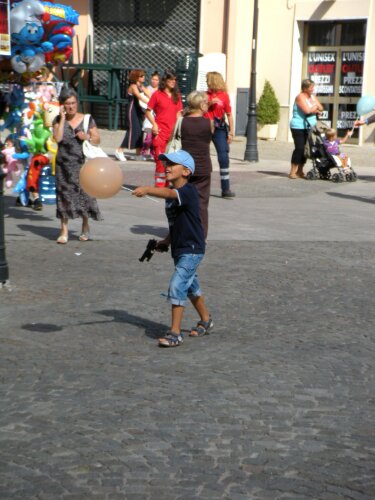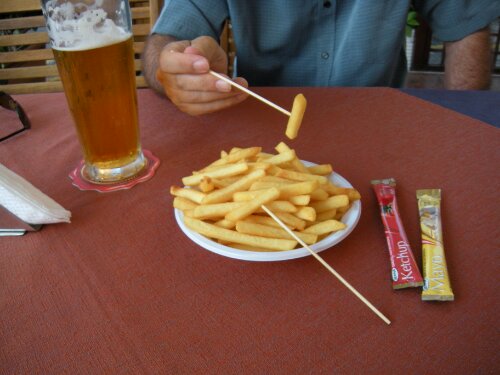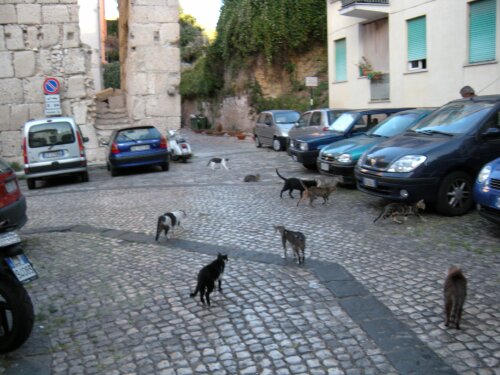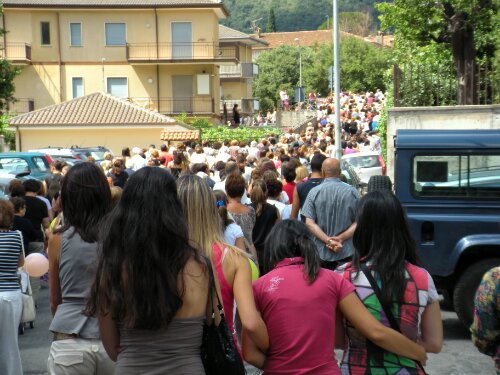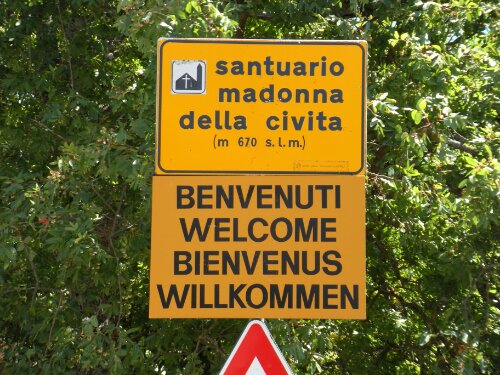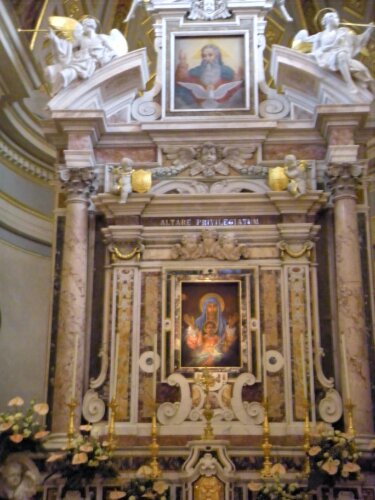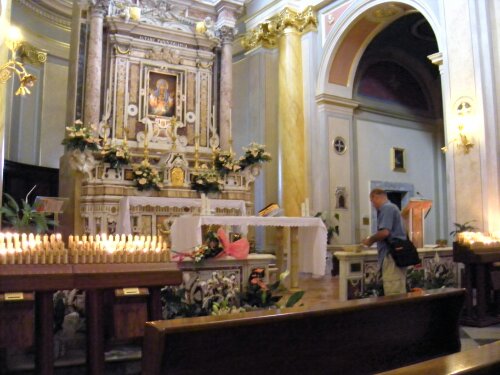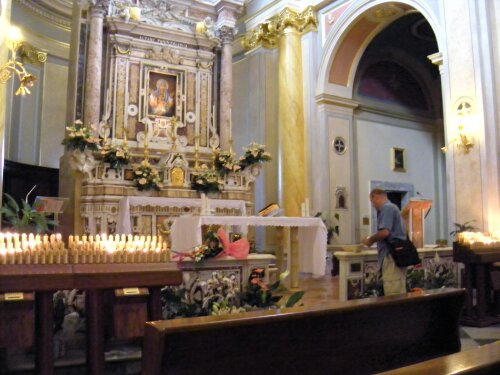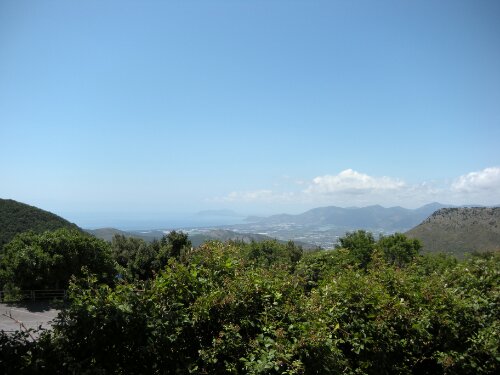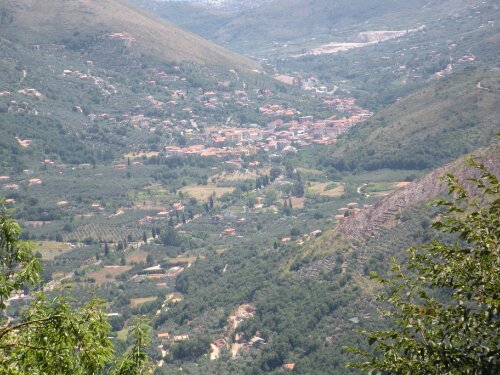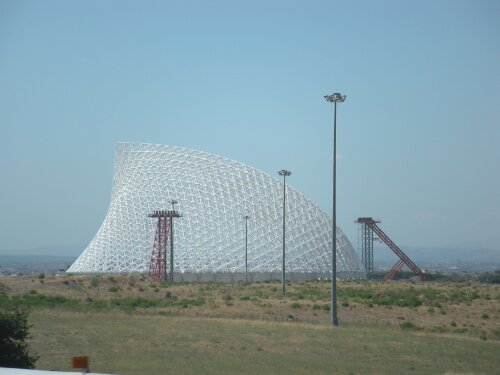 Italy Blog Posts:
A Two-Week Tour of Italy! Introduction
Suite 101 Articles:
Ann Silverthorn (Twitter: @annsilverthorn) is a versatile blogger who also writes about a wide variety of topics in numerous genres, including technology, travel, creative, and grant writing.