Yes, I am Ann Silverthorn, and I am afraid of heights. I don't need any desensitizing therapy for this. I just avoid situations that challenge this fear. But they can't all be avoided, can they? More about that in a moment.
Getting out of Radda in Chianti was nothing compared to trying to get out of Florence. We knew we would take the Autostrade to Naples, because it is a five-hour drive at best. So we set the car's navigation system and were on our way. Soon, it told us to take a right, and suddenly we were heading north, which we knew was not correct. It also was the opposite direction to the line on the navigation system's map. . . ah, turn around. Once back in the right direction we found a gas station, and the nice young man there filled our tank, which we're not used to. Of course he needs a tip for his trouble . . .
Next the GPS gave us a traffic alert and asked if we'd like to reroute. Sure, why not? This was actually kind of nice because it kept us off the Autostrade for quite a while, and it was expected to only add 45 minutes to our trip. Along the way, we found a portable red light on the side of the road, but there was no cross street. Weird. Then, Jim noticed that the road had been oiled ahead and it seemed like the road was down to one lane. It dawned on us that the red light was taking the place of the road workers we usually see with the reversable signs–slow and stop. Sorry if you've already seen this type of thing, but we're from Pennsylvania. Sure enough, after a few minutes wait, a line of cars emerged and then light turned green. Amazing.
Along this secondary road, I was hoping to see some of the many, vast sunflower fields that we passed on the twelve hour tour, but alas, there were none. There were, instead, many interesting houses made of stone with terra cotta roofs and vineyard in rows that followed the shapes of hillsides.
We had purchased the Italian Phrase Book, an Eyewitness Travel Guide, so I read to Jim many of the handy tidbits we would have already know if I we had been better Rosetta Stone students. The book has driving tips, and translations of common road signs. One I was able to share with Jim was rallentare, which means reduce speed.
The rest stops along the Autostrade, are quite a production. Depending on the stop, and there are quite a few, you can have a steak grilled for you, mangia on some spaghetti, or order up a nice deli sandwich. We each had a Mediterranean sandwich, with roasted eggplant, tomatoes (green and red), and feta cheese. For dessert on the road, I chose Pringles, and Jim found some Toblerone that was 50% off.
At this fancy rest stop, I was surprised to find toilets with no seats on them. This made me happy to live in a country whose rest stop toilets do have seats, not that I would actually sit on one, but it's nice to know they're there.
After a short five and a half hours, we entered Naples, and now that Jim has driven there, I have no doubt that he could drive in the city of Rome. I videotaped a portion of it and will post it if I can while here, but if not, I will when we get home. Let,s just say that his experience with video games and tennis helped out quite a bit.
With only instructions, such as park your car in a 24-hour lot, and catch a hydrofoil to Capri, we got to the coast and started searching for the port and a parking lot. Again, the GPS helped us find both. Amazingly, even with all the traffic and confusion, we found a lot right next to the port. After dropping our car off, Jim got in line to buy our tickets while I watched the luggage. Then he had to get out of line, because they only take cash. Thankfully, he didn't have trouble with the machine as he did in Radda, and we soon had our tickets. But which boat? We had 45 minutes before it left, but how would we know which one to board? Soon we realized that those hydrofoils are coming in and out in quick succession, and they post the departure time on the back of the boat. No problem.
The hydrofoils are known as something like superjets and must hold a couple of hundred people. Inside,there are rows of seats that resemble those on a jumbo jet. We couldn't sit in the open air section upstairs because of our luggage, so I adjusted my Sea Bands around my wrists, and hoped for the best. I had thought this would be a pretty smooth ride, but it turns out that it's pretty bumpy, enough so that I eventually thought I'd be putting my Pringles back in the canister, if you know what I mean. I started sweating and tried to calculate how much time was left. I couldn't see out the window because at 7:30 p.m. the sun blazes through the windows and everyone wanted the curtains drawn. Luckily, just as I was puling out the Pringles vpcan, we started to slow down, and soon we disembarked. I'm really not excited about taking that thing back to Naples, but this time, will resort to my trusty Dramaine, which rarely lets me down.
Once on the island, the hotel had sent a van to pick us and two other couples up. It took a bit of time to find the guy, but once we did, he took our suitcases and hoisted them on top of the roof as if they were as small as lunch boxes and bungeed them down. I was reminded of the time my friend, Jackie, and I tried to transport a mattress from Sam's Club that way, and how we had to retrieve it from the middle of Peach Street in a snow storm. But that worry soon left my mind as we started up the hill toward our hotel on streets as narrow as toothpicks, with switchbacks, oncoming traffic, and the ever present scooters whipping around us. Now let's add to that the subject line of my post. In the van, I was seated backward, so I had a perfect view of the extreme dropoffs and the Gulf of Naples that fell farther and farther below. I must have been a sickening shade of green by then because I was soon being instructed to close my eyes. Every time I thought we might have reached or destination, we instead had just paused to let an oncoming vehicle pass by or to take a tight curve. Finally, we reached the hotel and I swear I wanted to kiss the ground.
Tomorrow, we will leave the island and we get to reverse our route, which reminds me of coming back off the hill on my horse, Lolipop, who I wrote about in one of my posts in 2009, while in Wyoming for a writer's retreat.
Well, Jim's done with his postcards now, so it's time to go to the pool and then some other activities that involve heights. . . I'm of course, not sure about Internet at our next stop, but will get back to you as soon as I can. Ciao Bella!
1.  At a rest stop on the Autostrade. This truck smelled like wine!
2. Mountains from the Autostrade.
3. Fire on the Autostrade!
4. These are basically a chicken nugget with some spinach and parmesan.
5. A castle across from the ticket area at the Port of Naples (Molo Beverello). How often do you see this in America?
6. View from halfway up the mountain to our hotel on Capri.
7. A shrine across from the lookout point.
8. Pool area at the hotel Il Girasole.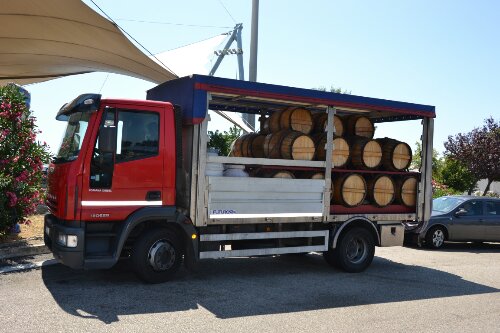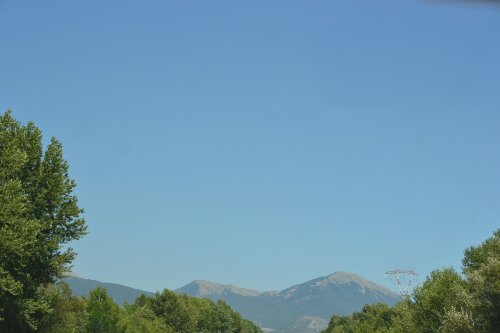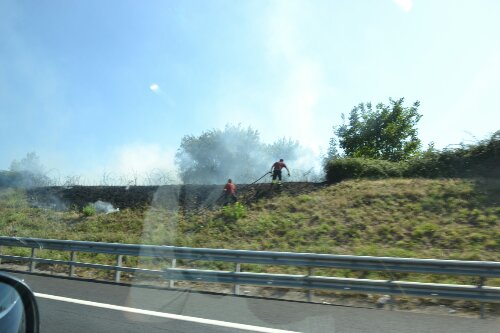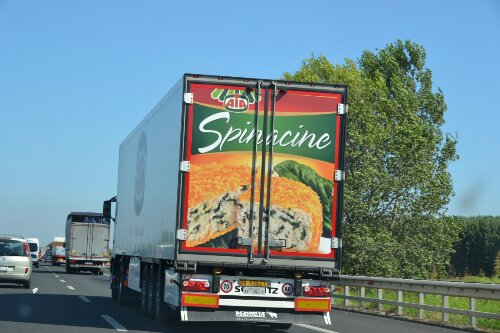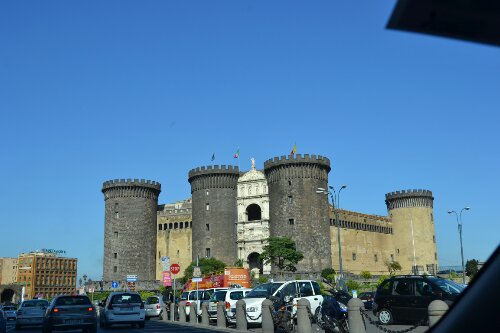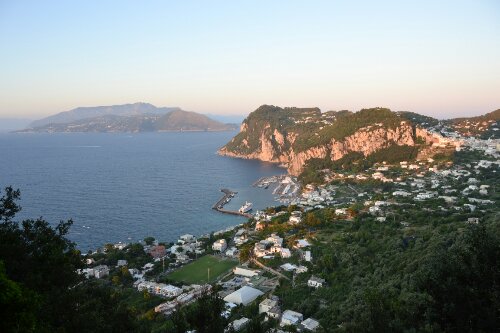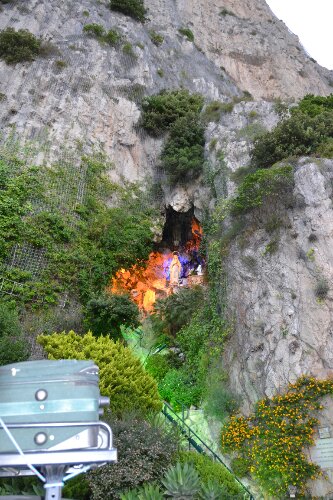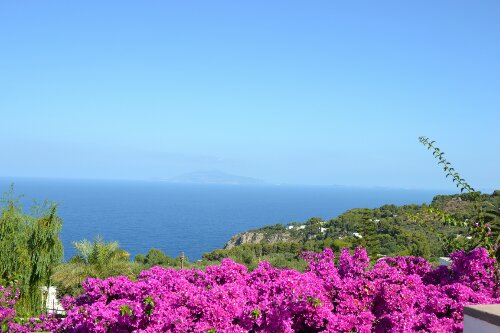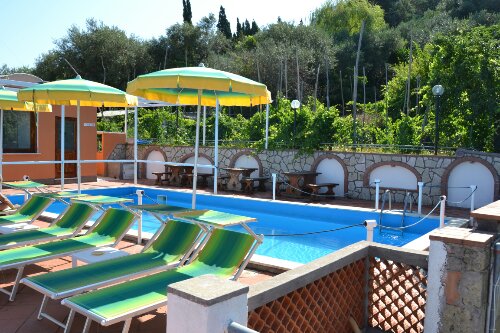 Italy Blog Posts:
A Two-Week Tour of Italy! Introduction
Suite 101 Articles:
Ann Silverthorn (Twitter: @annsilverthorn) is a versatile blogger who also writes about a wide variety of topics in numerous genres, including technology, travel, creative, and grant writing.