After a week of whirlwind sightseeing, we've entered the quiet phase of our trip. Yesterday, settled in our hotel in Anacapri, Hotel Il Girasole, we had breakfast in the dining room and then sat outside in the shade while I updated my blog posts and Jim wrote out postcards. Later, we ordered lunch and had it brought to the same location. There was so much food! Jim had stepped away for a moment when the first tray was brought, and I thought they had made a mistake because there was meat on the salad and sandwich. But when Jim came back, he said that tray was just his, and sure enough, mine came next. We really could have just shared one tray. Oh well!
After lunch, we decided to hang out at the pool for a while, and it was so nice and relaxing, because hardly anyone was there. We read and woke each other up when the other would start to snore. A perfect vegetative afternoon. When I finally looked at my watch, it was after 5:00 p.m.! We didn't get burned by the sun because of sunblock and umbrellas.
After our lazy afternoon, we decided to take the15-minute walk from the hotel down to the village of Anacapri, armed with water bottles from the hotel fridge. The drinks of all kinds are free there, and we really appreciated that. They stocked wine and beer along with water, juices, and soft drinks.
Once in the village, we started looking for the chair lift that would take us to the top of the mountain for some spectacular views. I hinted at this a bit in yesterday's post. On one hand, I wanted to experience the view. On the other, I was reminded of the movie our daughter, Kasey, watched recently called, Frozen, in which bad things happen to people on chair lifts. I was pretty sure that it wouldn't snow during the ride, and I don't think there are any wolves on the island, but the thought of dangling above a mountain slope was not a comforting one by any means.
Not seeing the chair lift area anywhere, Jim asked a female polizia where it might be. She pointed in its direction and said it was closed. I was happy and sad at the same time. We walked a bit further and saw that it was still running, but it must have just been bringing people down because by the time we got right to it, it had completely stopped. At that time, we realized that each chair held only one person, and man, did those chairs climb high! So, I took some pictures of the chair lift we didn't ride, and we moved on.
The front desk clerk at the hotel had recommended a certain restaurant for dinner, but when we found it, the gate was closed. Since many restaurants don't open until 7:00, which was a little ways off, we decided to walk around a little bit until they opened. We walked down one narrow street to see an old church and noticed a stage being readied in a piazza. The word, Energy, was displayed on the backdrop,with the N backwards (not sure if that was on purpose). We thought it was going to be some sort of concert, so we found a bench and watched the guys as they selected which transparent blue pieces of plastic they would attach to the lights. After we got tired of watching them, we decided to see if the restaurant was open. It was not.
Since the recommended restaurant wasn't going to be an option, Jim suggested that we try another place we had passed that advertised wood-fired oven pizza. Gabriel, our guide from the 12-hour tour had recommended that type of pizza. We stopped into Aumm Aumm, which in addition to offering the recommended pizza, also advertised that it had air conditioning. If you're ever in Anacapri, you should try this place. And here we go again. We had salad, pizza, and Nastro Azzurro beer. The pizza had peppers, mushrooms, and mozzarella on it. Really good. The people there were really nice, too, and the take-out business was hopping.
After dinner, Jim wanted to check out the place where we had seen the stage being set up. There was a thick crowd of a couple hundred people assembled by that time. When we saw some young girls dressed up in sparkly outfits, it became apparent pretty quickly that this was going to be amateur hour. At about 9:15 p.m., a woman took the stage and introduced the show. We realized that this was going to be some sort of review for a gymnastics school. The sound system and light show was befitting some top-notch entertainment, and then the first act took the stage. It was an extravaganza of hula hoops, jump ropes, and balls. The girls were between eight and twelve years of age, and while they were very cute, I feel mean saying this, but, their hardest trick seemed to be the cartwheel, which, on the whole, was not executed very well. How nice, though, that such a big crowd turned out for them. I'm sure those kids felt like stars that night.
As we headed back to the hotel, we passed a post with something furry on top. I walked up to it and couldn't tell whether was a stuffed or real cat. Its fur was thick and matted, and it was completely still. I made a smooching sound, and slowly, it opened one eye. It was taking a nice nap up there safe from stray dogs and any other disruptions, with the exception of the one I caused. So, of course, I had to take a picture, because my daughters and daughter-in-law love cats, and so do I.
Our route back to the hotel back to the hotel included a street where we were the pedestrians trying not go be struck by the speeding scooters in the dark. Finally, we reached the path to the hotel, and before we knew it, we were back safe, ready to turn in and get a good night's sleep before leaving the island in the morning. You won't believe what was in store for us the next day. . . .
Photos:
1. Relaxing lunch at the hotel. Salad, mozzarella sandwich, Coke Light, and Italian bread. Too much food for one person. Jim had his own!
2. The hotel hangs its towels and sheets on clothes lines!
3. The hotel we stayed at on the Isle of Capri, Il Garisole.
4. The chairlift that would have taken us to the top of the mountain.
5. The crowd in Anacapri waiting for the local dance studio's show to start. Video to be added later.
6. View from the hotel.
7. Chair lift again.
8. These plates made in Foggia were embedded in the sidewalks. Foggia is near the place Jim's paternal grandparents came from.
9. Aumm Aumm restaurant where we enjoyed pizza from a wood-fired oven.
10. Aumm Aumm menu.
11. Inside Aumm Aumm
12. A cat on a post.
13. A close up of the cat.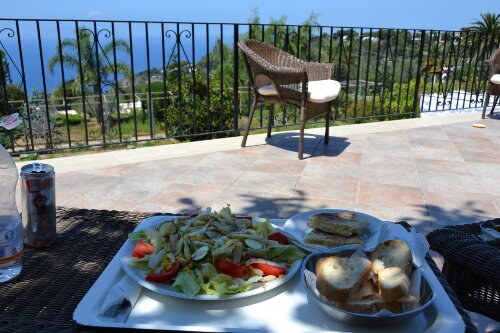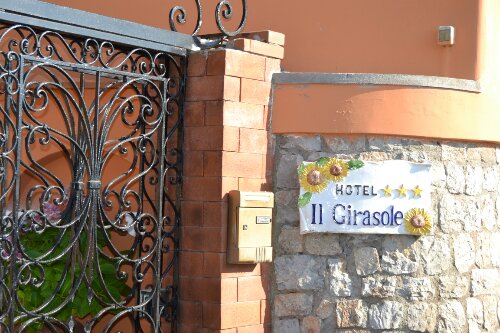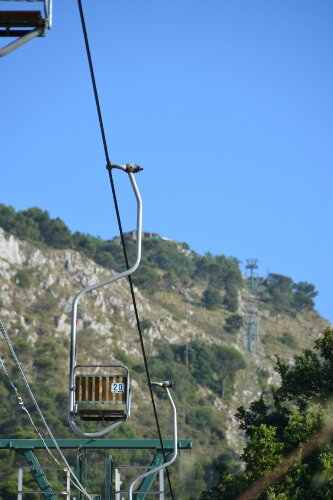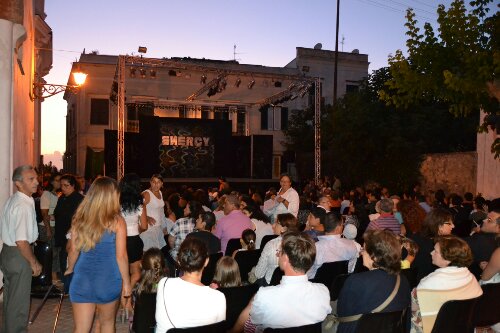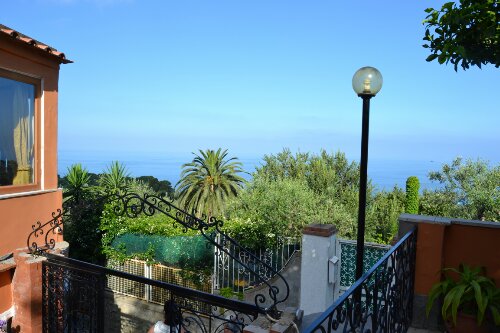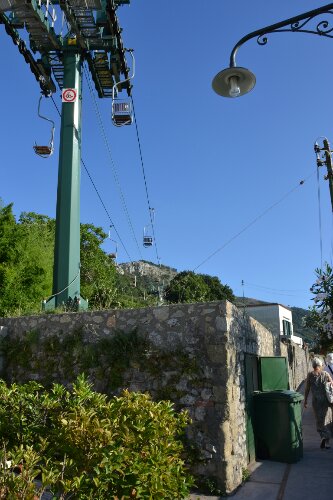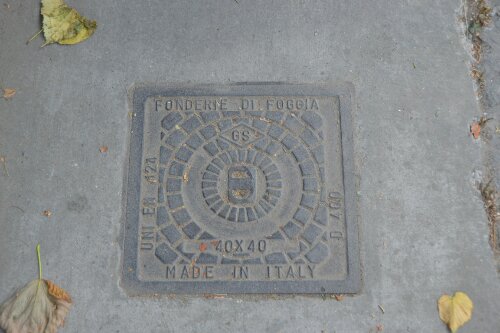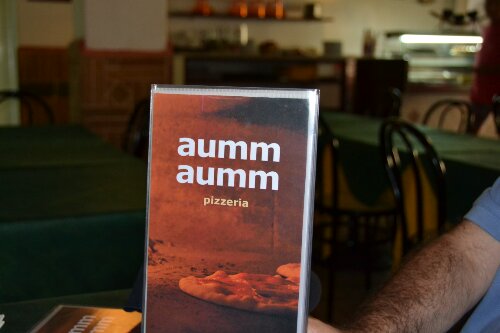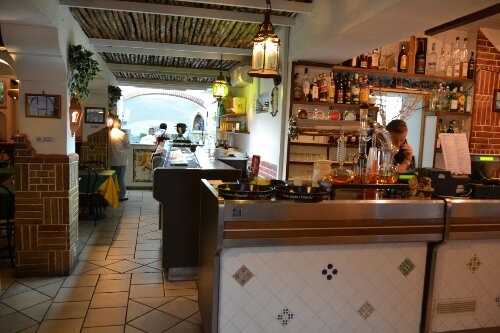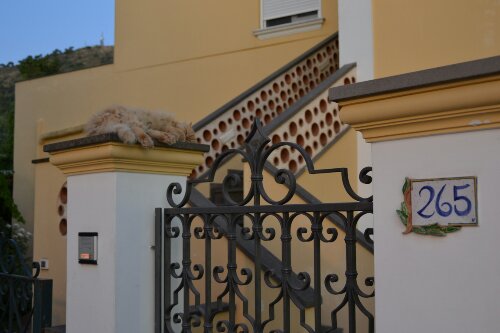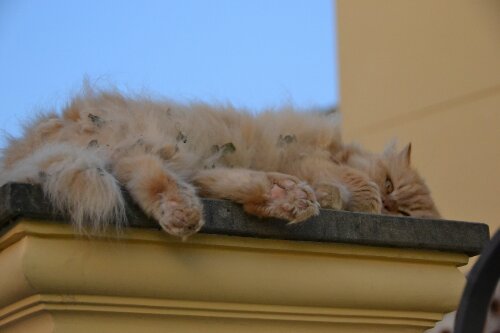 Italy Blog Posts:
A Two-Week Tour of Italy! Introduction
Suite 101 Articles:
Ann Silverthorn (Twitter: @annsilverthorn) is a versatile blogger who also writes about a wide variety of topics in numerous genres, including technology, travel, creative, and grant writing.