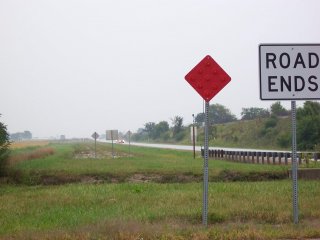 My planning paid off as I started my journey on Route 66, The Mother Road. I drove through downtown Chicago and headed toward Ogden Ave. where signs welcome travelers to Route 66. As I drove south, I saw the remnants of the abandoned lanes of Route 66. The traffic on Route 66 isn't heavy enough to warrant upkeep on a divided lane highway, so a lot of the road is two lanes only.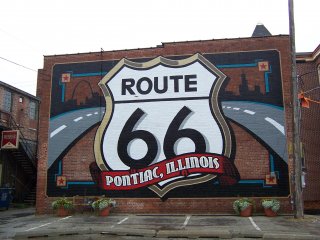 In Pontiac, IL, the Route 66 Association Museum exhibits artifacts from all eight states in which Route 66 runs. A photo exhibit by Michael A. Campanelli fills the upper floors of the museum. Campanelli took the photos during an eight-day journey from Santa Monica, CA, to Chicago in February of 2002. The docent at the museum thought it was wonderful that I was traveling the entire Route 66. She told me that three weeks before, a young woman came in and said that she was walking and hitchhiking across the country on Route 66. She wanted to find herself. When asked how she would manage in the desert, she said, "Oh, I have a water bottle." I'll have to keep my eye out for her.
I stayed in Normal, IL last night. Normal is next-door to Bloomington, IL, and both are the home to the State University of Illinois.
I attempted to copy the directions for today but gave up after four-pages, front and back hadn't even dented the amount of directions in the EZ 66 book. I crossed my fingers and hoped that the Historic Route 66 signs would see me through.
My Reboot: Solo Route 66 Trip Introduction 
2. Route 66: Erie, PA, to Elkhart, IN
3. Route 66: Elkhart, IN, to Normal, IL
4. Route 66: Lebanon, MO, to Chandler, OK
5. Route 66: Chandler, OK, to Amarillo, TX
6. Route 66: Amarillo, TX, to Santa Rosa, NM
7. Route 66: Santa Rosa, NM, to Gallup, NM
8. Route 66: Gallup, NM, to Williams, AZ
9. Route 66: Williams, AZ, to Barstow, CA
10. Route 66: Barstow, CA, to Santa Monica, CA!!!!
11. Route 66: Santa Monica Pier
12. Route 66: Stars' Homes Tour
13. Route 66: Live taping of Jeopardy!
14. Route 66: Taping of Chelsea Lately Show and a Taste of Traffic
15. Route 66: Arcadia, CA, to Flagstaff, AZ
17. Route 66: Amarillo, TX, to Tulsa, OK
18. Route 66: Tulsa, OK, to Terre Haute, IN
19. Route 66: Terre Haute, IN, to HOME!
Here's a gallery of photos from the trip.
A Couple of Articles Written for Suite 101:
Traveling Route 66 Solo By Car
A Nine-Day Guide to Driving Route 66
Ann Silverthorn (Twitter: @annsilverthorn) is a versatile blogger who also writes about a wide variety of topics in numerous genres, including technology, travel, creative, and grant writing.