Hurricane Ike made driving a bit dicey on Saturday. I was on the western edge of Ike and I'm glad I got out of Missouri, because some flooding was expected there. I took Route 66 for most of yesterday's driving. When I was about 100 miles from Chandler, OK, my landing point for the night, the rain was pretty heavy, so I entered my hotel's address in my GPS and took I-44 for the last part of yesterday's leg.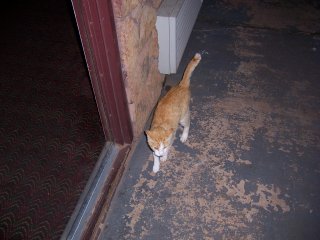 All along Route 66 sit countless boarded up, abandoned gas stations, diners, homes, and produce stands. It's hard to tell which were left to preserve Route 66 and which are due to the interstate highways stealing Route 66 livelihoods. Large, gaudy signs remain along the road highlighting businesses open or closed. Some signs remain where buildings have disappeared.
I was driving I saw something dark that looked like it was going to hit the side of my car. In the rearview mirror I saw that it was a dog. Thank goodness I didn't hit it.
My Reboot: Solo Route 66 Trip Introduction 
2. Route 66: Erie, PA, to Elkhart, IN
3. Route 66: Elkhart, IN, to Normal, IL
4. Route 66: Lebanon, MO, to Chandler, OK
5. Route 66: Chandler, OK, to Amarillo, TX
6. Route 66: Amarillo, TX, to Santa Rosa, NM
7. Route 66: Santa Rosa, NM, to Gallup, NM
8. Route 66: Gallup, NM, to Williams, AZ
9. Route 66: Williams, AZ, to Barstow, CA
10. Route 66: Barstow, CA, to Santa Monica, CA!!!!
11. Route 66: Santa Monica Pier
12. Route 66: Stars' Homes Tour
13. Route 66: Live taping of Jeopardy!
14. Route 66: Taping of Chelsea Lately Show and a Taste of Traffic
15. Route 66: Arcadia, CA, to Flagstaff, AZ
17. Route 66: Amarillo, TX, to Tulsa, OK
18. Route 66: Tulsa, OK, to Terre Haute, IN
19. Route 66: Terre Haute, IN, to HOME!
Here's a gallery of photos from the trip.
A Couple of Articles Written for Suite 101:
Traveling Route 66 Solo By Car
A Nine-Day Guide to Driving Route 66
Ann Silverthorn (Twitter: @annsilverthorn) is a versatile blogger who also writes about a wide variety of topics in numerous genres, including technology, travel, creative, and grant writing.