The landscapes are more and more beautiful with orange hues and dramatic shading. The Sandia Mountains are breathtaking.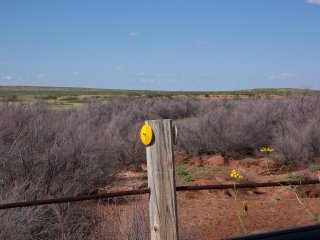 New Mexico has "living snow fences." I found that living snow fences are trees, shrubs, or grasses that create a vegetative barrier to trap blowing and drifting snow. That would be helpful in northwestern, PA.
West of Moriarity, NM, there are post office box units at the corners of country roads. There might be 50 or so boxes in each of these units. It's odd to see people checking their mail along the road.
All along Route 66, I've seen men with long white hair and beards riding on big, comfy motorcycles. Are they holdovers from the 60s? Or are they middle-aged men trying to find themselves.
I've seen people hitchhiking and riding bicycles along the way. It seems as though there are a lot of these people. I don't know if Route 66 has always had this many sun-burned travelers or if the bad economy is forcing people out west like the Okies during the great depression.
Central Avenue in Albuquerque was once probably very "Route 66," but it is quite run down now with remnant souls from that period shuffling along the road. Further west, the neighborhood improves and boutiques and cafes are found along Central Ave., including the Artichoke Café (yum).
East of Gallup, NM, there are lava beds that look like blackened charcoal.  Apparently, New Mexico is quite known for its volcanoes. Who knew?
My Reboot: Solo Route 66 Trip Introduction 
2. Route 66: Erie, PA, to Elkhart, IN
3. Route 66: Elkhart, IN, to Normal, IL
4. Route 66: Lebanon, MO, to Chandler, OK
5. Route 66: Chandler, OK, to Amarillo, TX
6. Route 66: Amarillo, TX, to Santa Rosa, NM
7. Route 66: Santa Rosa, NM, to Gallup, NM
8. Route 66: Gallup, NM, to Williams, AZ
9. Route 66: Williams, AZ, to Barstow, CA
10. Route 66: Barstow, CA, to Santa Monica, CA!!!!
11. Route 66: Santa Monica Pier
12. Route 66: Stars' Homes Tour
13. Route 66: Live taping of Jeopardy!
14. Route 66: Taping of Chelsea Lately Show and a Taste of Traffic
15. Route 66: Arcadia, CA, to Flagstaff, AZ
17. Route 66: Amarillo, TX, to Tulsa, OK
18. Route 66: Tulsa, OK, to Terre Haute, IN
19. Route 66: Terre Haute, IN, to HOME!
Here's a gallery of photos from the trip.
A Couple of Articles Written for Suite 101:
Traveling Route 66 Solo By Car
A Nine-Day Guide to Driving Route 66
Ann Silverthorn (Twitter: @annsilverthorn) is a versatile blogger who also writes about a wide variety of topics in numerous genres, including technology, travel, creative, and grant writing.