Yesterday I got my first look at really big mountains, the San Francisco Peaks. It was raining so the mountains were beautiful shades of purple and grey.
In Flagstaff, I hunted down one of the motels we stayed in when we moved back to Erie, The Arizonan, and took pictures for my parents.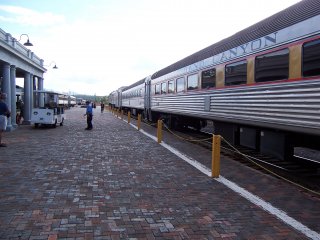 Williams, AZ, is known as the gateway to the Grand Canyon. The Grand Canyon Railway makes daily trips to the Canyon. I decided to stay in Williams, AZ, for an extra day so I could ride the rails.
The train's cars include, coach, first-class, deluxe, and dome. There's also a café car. I rode in coach.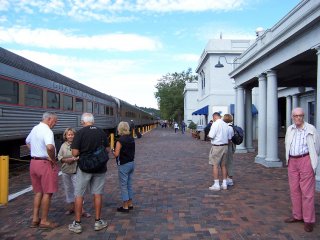 The 65-mile ride from Williams, AZ, to the south rim of the Grand Canyon took two-and-a-half hours. I thought it would be a nice quiet ride, but I was wrong!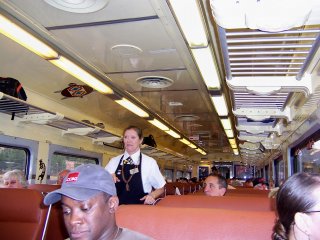 Each car had a conductor and ours really wanted us to "have fun." Two cowboys came into our car and sang cowboy songs. They wanted everyone to sing along. They also wanted tips when they were done. A photographer also came through and took a picture of everyone (not me!). I knew the pictures wouldn't be free.
When we arrived at the south rim, we had to walk up a lot of stairs to get to the inns, restaurants, gift shops, and spectacular views of the Grand Canyon. By the time I reached the top, I was really winded.
The area we visited had about a half-mile of walkways with a short stone wall between the walkway and the air. I stayed as far away from the wall as possible. Others were sitting on the wall and some had their legs dangling into the Canyon! I bought a book in a gift shop called, Over the Edge: Death in the Canyon. It's filled with accounts of people who got too close to the wall and fell. Some people were real idiots and thought they could lower themselves to jutting rocks for a thrill. Often, the rocks disintegrated from their weight and that was it for them.
I had never been to the Grand Canyon before and I was enthralled by the sight. It's so big that it seems like a postcard, unreal. It's so beautiful and breathtaking. Just walking five feet in any direction affords a different view.
We had arrived at the Canyon at noon and were to board the train for the return trip at 3:45. I had seen all I wanted at 2:00, so I headed down to the depot. I sat next to a retired couple, who were the ones who told me that 7,000 feet above sea-level makes it more difficult to breathe. When I got back to my hotel, I looked up Erie's elevation and it's around 700! Wow! No wonder I was winded.
The retired woman told me that her husband had a stroke last year. After he recovered, they bought a motor home and they've been bumming around the country ever since. Her husband can't drive because of his medical condition, so she does all the driving! She said you never know if you'll be here tomorrow, so we should make the most of each day. Amen.
On the way back to Williams, we were serenaded by another guy and later, the train was held up by "robbers," who went through the car demanding money! Then the "sheriff" came along and he also wanted money. I didn't give anyone any money. The ticket itself was $65! Gimme a break. By the way, the photographer handed everyone their pictures in really very nice folders. They were $22 each. I'm glad I didn't let her take my picture.
On the whole, the day-long trip was a great experience, even with the corny irritations.
My Reboot: Solo Route 66 Trip Introduction 
2. Route 66: Erie, PA, to Elkhart, IN
3. Route 66: Elkhart, IN, to Normal, IL
4. Route 66: Lebanon, MO, to Chandler, OK
5. Route 66: Chandler, OK, to Amarillo, TX
6. Route 66: Amarillo, TX, to Santa Rosa, NM
7. Route 66: Santa Rosa, NM, to Gallup, NM
8. Route 66: Gallup, NM, to Williams, AZ
9. Route 66: Williams, AZ, to Barstow, CA
10. Route 66: Barstow, CA, to Santa Monica, CA!!!!
11. Route 66: Santa Monica Pier
12. Route 66: Stars' Homes Tour
13. Route 66: Live taping of Jeopardy!
14. Route 66: Taping of Chelsea Lately Show and a Taste of Traffic
15. Route 66: Arcadia, CA, to Flagstaff, AZ
17. Route 66: Amarillo, TX, to Tulsa, OK
18. Route 66: Tulsa, OK, to Terre Haute, IN
19. Route 66: Terre Haute, IN, to HOME!
Here's a gallery of photos from the trip.
A Couple of Articles Written for Suite 101:
Traveling Route 66 Solo By Car
A Nine-Day Guide to Driving Route 66
Ann Silverthorn (Twitter: @annsilverthorn) is a versatile blogger who also writes about a wide variety of topics in numerous genres, including technology, travel, creative, and grant writing.