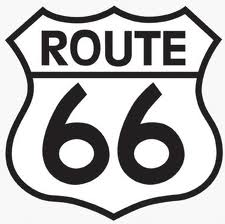 I stayed in Elkhart, IN, last night. Elkhart is only about 30 minutes from the University of Notre Dame, so I thought I'd like to drive over and take a look.
Unfortunately, planning for today took a lot longer than I thought it would. Since I was going to drive two hours north to pick up Route 66 at its beginning in Chicago, I wanted to make sure I knew how to get through the city.
Using the EZ 66 Guide for Travelers, I copied the directions onto notebook paper in bright purple ink, double-spaced, so I didn't have to page through the book while I was driving. Those directions, which took me through Chicago and south though Illinois, took up nearly two pages, front and back.
By the time I had wrapped everything up, it was 8:00 p.m., and I was beat. I had eaten a lot of kettle corn and I wasn't hungry for dinner, so I watched some TV and was asleep by 9:00 p.m.!
My Reboot: Solo Route 66 Trip Introduction 
2. Route 66: Erie, PA, to Elkhart, IN
3. Route 66: Elkhart, IN, to Normal, IL
4. Route 66: Lebanon, MO, to Chandler, OK
5. Route 66: Chandler, OK, to Amarillo, TX
6. Route 66: Amarillo, TX, to Santa Rosa, NM
7. Route 66: Santa Rosa, NM, to Gallup, NM
8. Route 66: Gallup, NM, to Williams, AZ
9. Route 66: Williams, AZ, to Barstow, CA
10. Route 66: Barstow, CA, to Santa Monica, CA!!!!
11. Route 66: Santa Monica Pier
12. Route 66: Stars' Homes Tour
13. Route 66: Live taping of Jeopardy!
14. Route 66: Taping of Chelsea Lately Show and a Taste of Traffic
15. Route 66: Arcadia, CA, to Flagstaff, AZ
17. Route 66: Amarillo, TX, to Tulsa, OK
18. Route 66: Tulsa, OK, to Terre Haute, IN
19. Route 66: Terre Haute, IN, to HOME!
Here's a gallery of photos from the trip.
A Couple of Articles Written for Suite 101:
Traveling Route 66 Solo By Car
A Nine-Day Guide to Driving Route 66
Ann Silverthorn (Twitter: @annsilverthorn) is a versatile blogger who also writes about a wide variety of topics in numerous genres, including technology, travel, creative, and grant writing.