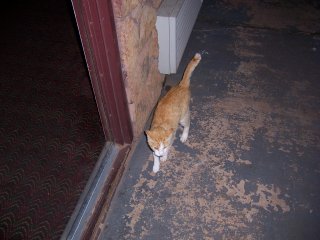 Yesterday morning, at the motel in Chandler, a cute yellow cat walked around meowing. I gave him some food and water, but all he wanted was to be petted. I let him come in my room, but a few minutes later made him leave because I didn't want to be charged for having a pet in my room!
Of course, I worried that the cat would be hit by a car, but I had to leave him behind. West of Chandler, turtles were crossing the road and, of course, I worried about them, too.
West of Chandler, Route 66 rises and falls and looks like the humps of a camel.
This may sound dumb, but I was surprised that there were so many trees in Oklahoma. It looks like Pennsylvania. I thought it was more desert-ish.
This may sound dumber, but I had never seen all-white cows and all-black cows. I think they're multi-colored in northwest, PA.
Challenges on this trip include parts of Route 66 that are closed for construction. I had to figure out how to get back on Route 66 after a detour. Thank goodness for GPS.
On Route 66 in western OK, signs warn about "damaged roads." That was funny because the damage didn't even look as bad as springtime in northwestern Pennsylvania.
There are fields of black-eyed Susans and those flowers also run along both sides of the road. So pretty.
In Weatherford, OK, I stopped at a fast-food joint for some lunch and when I got back on the road (Route 40), I noticed that my driver's side window wouldn't close! So I drove 200 miles with the window four-inches open. I checked out a Honda dealer in Amarillo, TX, but when I got to my hotel, I pushed the window in as I pushed the button and the window went back in the track. I'm going to avoid opening and closing that window until I get home!
My Reboot: Solo Route 66 Trip Introduction 
2. Route 66: Erie, PA, to Elkhart, IN
3. Route 66: Elkhart, IN, to Normal, IL
4. Route 66: Lebanon, MO, to Chandler, OK
5. Route 66: Chandler, OK, to Amarillo, TX
6. Route 66: Amarillo, TX, to Santa Rosa, NM
7. Route 66: Santa Rosa, NM, to Gallup, NM
8. Route 66: Gallup, NM, to Williams, AZ
9. Route 66: Williams, AZ, to Barstow, CA
10. Route 66: Barstow, CA, to Santa Monica, CA!!!!
11. Route 66: Santa Monica Pier
12. Route 66: Stars' Homes Tour
13. Route 66: Live taping of Jeopardy!
14. Route 66: Taping of Chelsea Lately Show and a Taste of Traffic
15. Route 66: Arcadia, CA, to Flagstaff, AZ
17. Route 66: Amarillo, TX, to Tulsa, OK
18. Route 66: Tulsa, OK, to Terre Haute, IN
19. Route 66: Terre Haute, IN, to HOME!
Here's a gallery of photos from the trip.
A Couple of Articles Written for Suite 101:
Traveling Route 66 Solo By Car
A Nine-Day Guide to Driving Route 66
Ann Silverthorn (Twitter: @annsilverthorn) is a versatile blogger who also writes about a wide variety of topics in numerous genres, including technology, travel, creative, and grant writing.