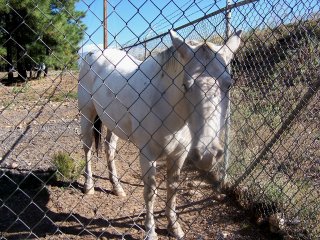 Today as I was leaving my hotel in Flagstaff, AZ, I saw a white horse next door. I went over to her and she walked over to me and let me rub her nose. I took her picture and posted it in Trip Pics.
As I was driving on I-40, I spotted a sign for Meteor Crater, 35 miles east of Flagstaff. I decided to have a look. The crater is six miles south of I-40. When I got a look at it, I was quite surprised by its size. This is not some dent in the dirt. The crater was formed by a meteorite 50,000 years ago. It's 700 feet deep and more than 4,000 feet across. Astronauts were trained there in preparation for their moon landing. Click HERE for more info on Meteor Crater.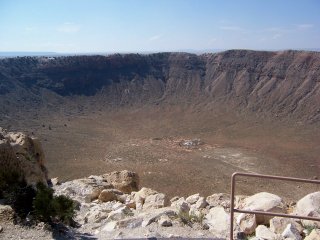 It was blasted hot at Meteor Crater, so I'm glad I missed the tour around the whole thing. I was even gladder when, in the gift shop, I saw how close the tour gets to the edge of the crater. Not for me! I'm glad I saw the crater, but it cost $15! It's owned by Meteor Crater Enterprises, which was formed by the Bar T Bar Ranch Company, a cattle operation founded in the 1880s. So I guess they can charge whatever they wish.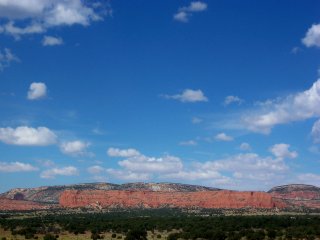 I also stopped off at the Continental Divide exit and took some pictures. Supposedly at that longitude the water drains on one side to the Atlantic and on the other to the Pacific.
My Reboot: Solo Route 66 Trip Introduction 
2. Route 66: Erie, PA, to Elkhart, IN
3. Route 66: Elkhart, IN, to Normal, IL
4. Route 66: Lebanon, MO, to Chandler, OK
5. Route 66: Chandler, OK, to Amarillo, TX
6. Route 66: Amarillo, TX, to Santa Rosa, NM
7. Route 66: Santa Rosa, NM, to Gallup, NM
8. Route 66: Gallup, NM, to Williams, AZ
9. Route 66: Williams, AZ, to Barstow, CA
10. Route 66: Barstow, CA, to Santa Monica, CA!!!!
11. Route 66: Santa Monica Pier
12. Route 66: Stars' Homes Tour
13. Route 66: Live taping of Jeopardy!
14. Route 66: Taping of Chelsea Lately Show and a Taste of Traffic
15. Route 66: Arcadia, CA, to Flagstaff, AZ
17. Route 66: Amarillo, TX, to Tulsa, OK
18. Route 66: Tulsa, OK, to Terre Haute, IN
19. Route 66: Terre Haute, IN, to HOME!
Here's a gallery of photos from the trip.
A Couple of Articles Written for Suite 101:
Traveling Route 66 Solo By Car
A Nine-Day Guide to Driving Route 66
Ann Silverthorn (Twitter: @annsilverthorn) is a versatile blogger who also writes about a wide variety of topics in numerous genres, including technology, travel, creative, and grant writing.