I recorded lots of notes from yesterday's ride and for some reason, I can't retrieve them. So, I'll try to remember yesterday. . . .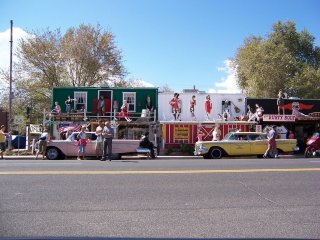 Seligman, AZ, is a cute town with a funny gift shop area that has old cars the tourists can pose with.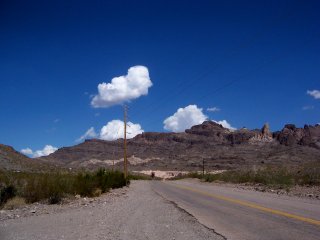 Outside of Kingman, AZ, my EZ 66 book said to follow the sign, "To Oatman." Unfortunately, I didn't read the narration that said, "The road REALLY gets hairy . . . with hairpin curves and sheer drops coming hot and heavy. Note the interesting variety of stone or cable guardrails (or LACK thereof) . . . .
If I had read that paragraph, I would have definitely taken Route 40. As I ascended the Black Mountains, it became clear that this route was going to be a challenge. By the time I realized where I was headed, it was too late to turn around, so I gripped the steering wheel and hoped for the best.
In Pennsylvania, just about every turn there is has a guardrail. Not in the Black Mountains. Just the day before, I had been reading my Death in the Grand Canyon book, morbidly witnessing the misfortune of foolish tourists and inexperienced hikers. Now, here I was with barely a shoulder on the road and a sheer drop that was much too close for comfort. I'm sure the scene would make a wonderful picture, but I had to keep every one of my neurons focused on the task at hand—staying on the road.
There was only one other car driving in the same direction as I, and the driver apparently was not as freaked out as I was, because when I found a place to pull over, he raced past me, clearly irritated with my 15mph driving. I saw mile markers that started at more than 30 miles and I hoped that didn't mean the length of this treacherous driving. It did.
A good number of cars were coming in the opposite direction and on every blind turn, I hoped they would stay on their side of the road. Their lane hugged the mountain, while mine teased the precipice.
As I started coming out of the mountains, I came upon a tiny town called Oatman, which was clogged with tourists' cars, pedestrians, and at least five donkeys meandering around. Camcorderists caught the sight for friends back home who would never believe that donkeys could walk down Main Street. As much as I would have liked to stop in Oatman, I was so freaked out by the mountain experience that I wanted to get to level land, ASAP. The route after Oatman was much easier, thank goodness!
Several miles outside of Oatman, I saw two donkeys by the road. They almost looked like statues. When I slowed down to take a look they ran away. I snapped a picture of one of them.
The rest of the ride to Barstow, CA, was beautiful and luckily, uneventful. There are lots of lava beds and meteor craters along the way.
When I got out of the car in Barstow, I was surprised at the strength of the wind. The wind was warm and if you're from Pennsylvania, you know how odd that seems. Wind means chill in Erie.
The front desk clerk told me that it's always windy in Barstow because it's a desert town. He also told me that Barstow gets snow in the winter. So in winter, it's windy and cold.
I was looking forward to the outlet malls that were at the back door of my hotel! So last evening, I trolled the outlet malls, but didn't see anything that I felt like spending money on. There are a couple of outlet malls in the same vicinity with all of the stores you'd expect, such as Liz Claiborne, Ann Taylor, Ralph Lauren, Nine West, Tommy Hilfiger, and many, many more.
My Reboot: Solo Route 66 Trip Introduction 
2. Route 66: Erie, PA, to Elkhart, IN
3. Route 66: Elkhart, IN, to Normal, IL
4. Route 66: Lebanon, MO, to Chandler, OK
5. Route 66: Chandler, OK, to Amarillo, TX
6. Route 66: Amarillo, TX, to Santa Rosa, NM
7. Route 66: Santa Rosa, NM, to Gallup, NM
8. Route 66: Gallup, NM, to Williams, AZ
9. Route 66: Williams, AZ, to Barstow, CA
10. Route 66: Barstow, CA, to Santa Monica, CA!!!!
11. Route 66: Santa Monica Pier
12. Route 66: Stars' Homes Tour
13. Route 66: Live taping of Jeopardy!
14. Route 66: Taping of Chelsea Lately Show and a Taste of Traffic
15. Route 66: Arcadia, CA, to Flagstaff, AZ
17. Route 66: Amarillo, TX, to Tulsa, OK
18. Route 66: Tulsa, OK, to Terre Haute, IN
19. Route 66: Terre Haute, IN, to HOME!
Here's a gallery of photos from the trip.
A Couple of Articles Written for Suite 101:
Traveling Route 66 Solo By Car
A Nine-Day Guide to Driving Route 66
Ann Silverthorn (Twitter: @annsilverthorn) is a versatile blogger who also writes about a wide variety of topics in numerous genres, including technology, travel, creative, and grant writing.