On the way out of Amarillo, I stopped at Cadillac Ranch where ten Cadillacs are buried nose down.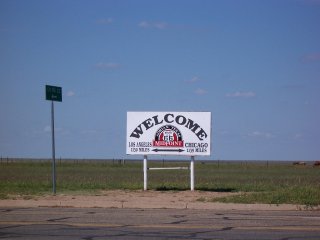 Adrien, TX, claims to be the halfway point between Chicago and Santa Monica, CA.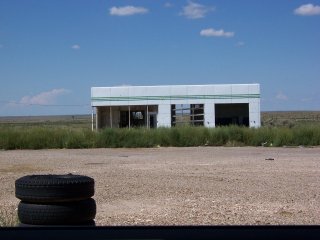 Along the way, I took a deep breath and headed down an 18-mile, optional portion of old Route 66. Along the way, the ghost of Endee, TX, revealed shells of motels, diners, and gas stations. It was a little intimidating because I was the only one on the road. I was also afraid that one of the stones would give me a flat tire. I've never changed a tire in my life and I hope I never have to! I wonder if AAA would rescue me in that remote location. . . .
On Monday night, I stayed in Santa Rosa, NM, where the population is about 2,000. I think there are more motel rooms in that town than residences!
My Reboot: Solo Route 66 Trip Introduction 
2. Route 66: Erie, PA, to Elkhart, IN
3. Route 66: Elkhart, IN, to Normal, IL
4. Route 66: Lebanon, MO, to Chandler, OK
5. Route 66: Chandler, OK, to Amarillo, TX
6. Route 66: Amarillo, TX, to Santa Rosa, NM
7. Route 66: Santa Rosa, NM, to Gallup, NM
8. Route 66: Gallup, NM, to Williams, AZ
9. Route 66: Williams, AZ, to Barstow, CA
10. Route 66: Barstow, CA, to Santa Monica, CA!!!!
11. Route 66: Santa Monica Pier
12. Route 66: Stars' Homes Tour
13. Route 66: Live taping of Jeopardy!
14. Route 66: Taping of Chelsea Lately Show and a Taste of Traffic
15. Route 66: Arcadia, CA, to Flagstaff, AZ
17. Route 66: Amarillo, TX, to Tulsa, OK
18. Route 66: Tulsa, OK, to Terre Haute, IN
19. Route 66: Terre Haute, IN, to HOME!
Here's a gallery of photos from the trip.
A Couple of Articles Written for Suite 101:
Traveling Route 66 Solo By Car
A Nine-Day Guide to Driving Route 66
Ann Silverthorn (Twitter: @annsilverthorn) is a versatile blogger who also writes about a wide variety of topics in numerous genres, including technology, travel, creative, and grant writing.