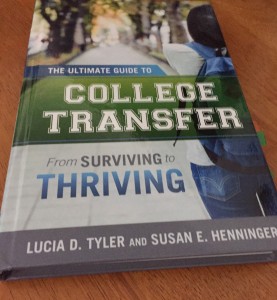 A few years ago, I met Susan Henninger at the Chautauqua Writers' Festival. Since then, she and I have loosely kept in touch. She helped me with some key research for my writing project, and I connected her with a source for hers. This is one of the many valuable benefits of conferences in any field.
When Susan said she was co-writing a book with education-consultant Lucia Tyler about college transfers, I mentioned that my daughter might be willing to share her experience. My daughter agreed, and I connected them.
The book, The Ultimate Guide to College Transfer: From Surviving to Thriving, came out recently, and I purchased a copy for myself. I wish it had been written years ago. This book is valuable not just for anyone contemplating transferring colleges. It can help families avoid having to go through this in the first place.
Here are seven takeaways from The Ultimate Guide to College Transfer.
When young adults go away to college, parents are often confused about how to act with them. Some are helicopter parents, and some are totally hands off. Finding a balance between both extremes is key. A student shouldn't feel totally alone.
Once a student goes off to college, her privacy is protected by FERPA (Family Educational Rights and Privacy Act). If she is having a crisis, this prevents the college from informing the parents. I was surprised to learn that there are FERPA waivers, so that parents are not the last to know if the student has a serious problem. Students may view the waiver as invasive, but it could be a literal life saver for them.
Once it becomes clear that a college is not working for a student, he will certainly have to face his parents and friends. The Ultimate Guide to College Transfer provides tips and advice about how to handle both.
There are many moving parts regarding transferring colleges. What happens to financial aid? Scholarships? How many credits will transfer? Using this guide, there isn't much that could fall through the cracks.
Doing one's homework before choosing a college is a no brainer, and it's the same if a transfer becomes necessary. The Ultimate Guide to College Transfer provides tips for college visits and many sample questions to ask admissions counselors. There's also a comprehensive pro/con list that can be used to evaluate each prospect.
Tyler and Henninger's guide provides two handy timelines for college transfer based on spring or fall semesters. This is good for managing all the tasks required without becoming too overwhelmed in what might be an already-stressful situation.
At the end of The Ultimate Guide to College Transfer is a section containing resources for college transfer, including academic, transfer credits, community colleges, gap years, and international student considerations.
As I mentioned earlier, I wish The Ultimate Guide to College Transfer had been written years ago. It would have saved my family a lot of worry and unrest. Our daughter is a successful professional now, but when we were going through these changes, I worried about her future. Tyler and Henninger deftly guide both students and parents through the transfer process and provide tools so families can come out on the other side—speaking to each other.
I believe that The Ultimate Guide to College Transfer should be part of the resource collection in every high-school guidance office. It also belongs in the lending libraries of college admission and counseling offices. You'll probably want a copy of your own, though.