At home, my husband, Jim, and I usually follow a plant-based diet. The only exception is the occasional cheese pizza. When we are out, sometimes we end up eating more vegetarian than vegan.
Below, I have made a list of our Las Vegas vegetarian/vegan dining highlights, which will be helpful if you are staying at the Mandalay Bay, like we did on our recent four-day trip to Vegas.
You won't see any breakfast foods on the list, because we visited Starbucks every morning and bought their coffee and bananas, supplemented by Go Macro Morning Harvest bars, which are vegan, macrobiotic, and non-GMO. Although brown rice syrup is the first ingredient (I wish it weren't), that ingredient is a sweetener that is much less catastrophic to the blood sugar levels than cane sugar or fructose. I like that Go Macro bars do not contain soy protein isolate, which is usually made in a process that uses hexane gas, a pollutant and carcinogen. Most protein bars on the shelves today contain soy protein isolate.
So, here we go!
Bonannos New York Pizzeria – Mandalay Bay Food Court 

We got to the hotel rather late on Friday night, but we still needed dinner, so we walked to the Mandalay food court and each downed a slice of cheese pizza and a salad. The pizza had just come out of the oven, and the Caesar salad was fresh.
Citizens Kitchen and Bar – Mandalay Bay 
Citizens Kitchen and Bar is where I sought sustenance after Saturday's Apple store debacle. I ordered a glass of chardonnay (stat), and gobbled down the Quinoa Vegetable Salad. It was just what I needed after a day tromping around Vegas in the rain. Jim joined me and ordered a craft beer before leaving for the conference evening event (which I had opted out of).
Noodle Shop – Mandalay Bay
On my own for lunch on Sunday, with Jim in his sessions, I stopped into the Noodle Shop for their braised tofu. I'm not a fan of soft or silken tofu, but this wasn't too bad. The vegetables looked very fresh, and I ate everything, except the baby corn. Not a fan of baby corn. The server was attentive and helpful when I asked questions about the menu.
Verandah – Mandalay Bay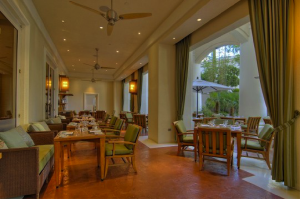 I'm sure that after two days inside, Jim was happy to dine alfresco at Verandah, which is located in the Four Seasons hotel, connected to the Mandalay property. Here we each had salad (Caesar for me (no anchovies), caprese for Jim), and we split the wood-fired Capricciosa pizza, which features mozzarella, tomatoes, artichokes, olives, and ham. We asked our waiter to hold the ham. The menu also features homemade pasta dishes, in addition to seafood and meat-based dinners.
Boulder Dam Brewing Company – Boulder City, NV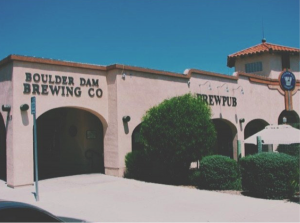 If you're motoring over to Hoover Dam, Boulder City is on the way, and you really should try to incorporate the Boulder Dam Brewing Company into your trip. We enjoyed the beer-battered zucchini and veggie burgers, which don't automatically come with cheese. Yay! The atmosphere is casual, and if you buy a shirt or hat for $20 or more, you get a free beer. Jim bought a hat and got a free beer.
Bonnie Springs Ranch – Red Rock Canyon Area
A Yelp review states, "Are you High Maintenance? Then you better head back to the Strip cuz this isn't for you." But, if you like a rustic feel (think summer camp), with a floor so uneven that your chair rocks sideways, you'll feel right at home at the Bonnie Springs Ranch restaurant. Jim had a veggie burger and fries, and I had a Caesar salad and onion rings (not healthy!). The food is not fancy, but it is comforting. In fact, the special on the day we were there was pot roast. There's a full bar, too.
Rx Boiler Room – The Shoppes at Mandalay Bay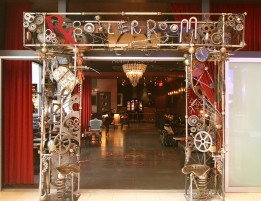 For our last dinner in Vegas, we wandered around the Mandalay Bay and Luxor properties to see what might suit us. We almost ended up at the Bayside Buffet, but stopped in the Shoppes at Mandalay Bay to read the menu outside Rx Boiler Room (combining alchemy of food and drink). Buffet or Boiler Room. No brainer. Boiler Room.
Catching our eyes were the Rx guacamole with "big ass" chips and the chopped vegetable and organic greens with avocado, nuts, sunflower seeds, apple-cider vinegar, and flax seed oil. This was a heavenly meal and so fitting for our last night in Vegas.
We also ordered the roasted Brussels sprouts. Ooops. At the time of this post, I just read the online menu and found that the sauce contains bacon. I had pictured roasted Brussels sprouts like I make at home, with olive oil, sea salt, and pepper. I guess it pays to read the menu more closely. If I had, I would have asked for the sauce to be omitted.
There are lots of interesting dishes on the Rx Boiler Room menu that involve meat, so I will allow you to explore those yourself, if you are so inclined.
The atmosphere at this restaurant is eerily eclectic and richly dramatic. Celebrity chef, Rich Moonen, envisioned a steampunk-inspired theme that, our server, Danielle, said is where the past meets the future. It is designed to remind one of the 19th-century Victorian/industrial era found in the 1999 film, Wild, Wild West, starring Will Smith. As a final note on this restaurant, let's just say the men in your party will appreciate the female employees' attire.
So there you have it. We enjoyed all of the above restaurants and highly recommend them to you, if you find yourself in Vegas.
Here are some more posts about this Las Vegas trip.
Vegas Vacation: Overview
Vegas Vacation: Vegetarians In Sin City
Vegas Vacation: Hoover Dam
Vegas Vacation: Red Rock Canyon
Flying Southwest
Apple Experience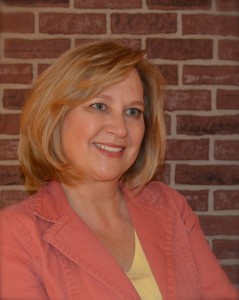 Ann Silverthorn is a writer who won't be classified or categorized. One day she's writing about her Cairn Terrier rescues, and the next, she's posting about a business topic or a research subject. Imagine the two of you are meeting for coffee, and she wants to share something new, interesting, amusing, or perplexing.