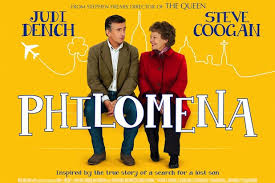 Living near the Ritz-Carlton in Washington, DC, my son and daughter-in-law have encountered a number of celebrities at their neighborhood pharmacy. A year or so ago, the activity during one of our Skype sessions was a guessing game about their latest sighting. After our many failed tries, they finally revealed that they had seen Dame Judi Dench discussing the merits of one product over another with a companion.
The legendary actress was in town working on Philomena, a docudrama about Philomena Lee, an Irish woman who, in the 1950s, has a baby out of wedlock in an Irish convent, and then loses the child to adoption. Over the years, while keeping her transgression a secret from her family and friends, she repeatedly petitions the convent for information about her son's adoption, but is told time and again that the records cannot be located.
Finally, on her son's 50th birthday, Philomena shares her secret with her daughter, who contacts an out-of-work, down-on-his-luck journalist, Martin Sixsmith, in the hopes that he can help the elderly woman find her son. Often trying the patience of the reporter, played by screenwriter-comedian-actor Steve Coogan, Philomena travels with him to the convent and eventually to Washington, DC, where they discover that the nuns have been deceitful, resulting in tragic, missed opportunities for mother and son to connect.
This is a largely true story of blatant exploitation, rigid beliefs, supreme heartbreak, and ultimate forgiveness. It is not a positive portrayal of the Catholic Church's Irish convent system, but it is consistent with the doctrine that drove some nuns' behavior in those days. There are those who think the film is an attack on the Church, but that aside, the story needs to be told, because there are many reunions of mothers and their children that can still happen. Time is passing swiftly, though, and opportunities to reconnect could be lost forever.
Based on the book, The Lost Child of Philomena Lee by Martin Sixsmith, this film is Oscar bound, as is the masterful performance by Dame Judi Dench. If you go to see Philomena, you'll likely be outraged by the story. And you might ponder if you could have displayed as much grace and forgiveness as did Philomena Lee.