I like to write poetry, but I don't do it very often, and I don't have much to show for myself. Here's a sampling that I'd like to share with you.
What Happens in Here
2010 First Place Winner in Putting Our Heads Together Contest
Unfortunately, the site took the page down, but luckily, I made a screenshot of it!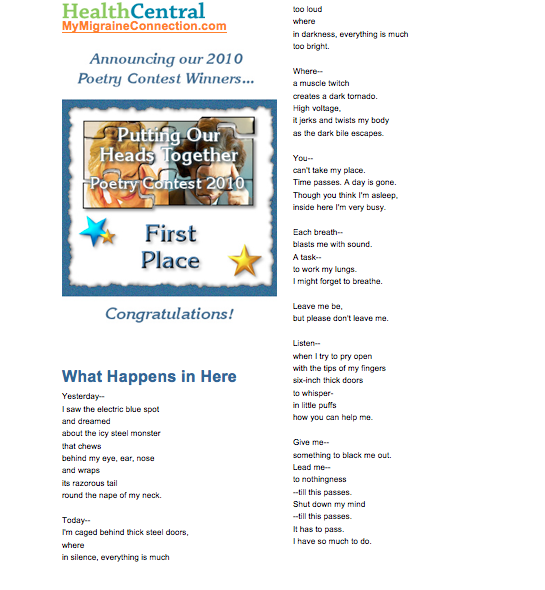 ---
In the fall of 1996, I was happy to earn third place in the Eleventh Annual ARTIFACTS Writers competition sponsored by the Arts Council for Chautauqua County. The photocopy of the newspaper page is pretty bad, so, I'll just share the text below.
Hail Mary in the Night 1996
When I was little, my family said I was special
because when I said Hail Marys—they worked.
Like the time I sat on my mother's lap
in a webbed chair at the family reunion
and it started to rain.
"Say a Hail Mary, Annie," they said.
So I closed my eyes and prayed
and the sun came out.
They talked about that for years.
In fourth grade, I laid in the dark
the night before report cards
and whispered a thousand Hail Marys
to change the ink on the stiff buff card
that hid inside Sister Daniel Marie's desk.
For the next month I was grounded from TV,
stealing glances at Leave It To Beaver re-runs
and flipping through the Bible.
Now I scoff at the good book
that seems to be just stories with
Mary and Jesus as characters.
But sometimes at night,
I lie in bed wrestling with my life,
and realize—
that someday my heart will stop,
and wonder—
how it'll happen and
what it'll be like
and if I'll feel anything
when I'm dead.
My breathing quickens
and my heart shouts,
"See here, I'm working!"
I squeeze my eyes shut
and start my mantra
so Mary can sing me to sleep.
---
Here's a poem I wrote as an undergraduate. It was based on an encounter after our tour of St. John the Divine Cathedral in New York City.
---
This is my attempt at an Italian sonnet. They are easier to write in Italian, because more words rhyme in that language. This one is about Panama Rocks in upstate New York.
Flight of the Stone Captive
Devonian birthed an innocent beach
down at the delta of a river great.
Compressed and oppressed by sediment weight,
sand became stone hidden far from life's reach.
A northern ice-angel came to impeach
the cloak of silt atop the stone's pate.
Leaving exposed in a fixed angry state
labyrinths and crevices bred of the breach.
But soon upon the sedimentary,
dampened and moist facing east and north,
spread verdant moss and ethereal fern.
The friendlier integumentary
fed roots of cherry and beech bringing forth
flight that ascended to Holocene's turn.
All poems: Copyright Ann Silverthorn 2017