11/28/2017 – Two Days Early – I'm a Winner (Word Count 54,130)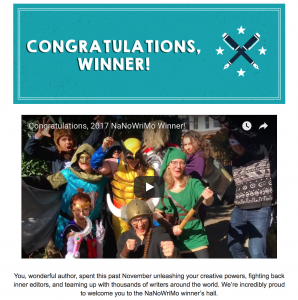 Yes, it's true. I'm officially a NaNoWriMo winner. My official word count is 54,130. I felt the need to exceed 50,000 words, because I started with 3,874. What do I win? Bragging rights and a good feeling, mostly.
Best Intentions is a story of a woman who tries to improve the lives of others at the expense of her relationships with her own family members. She takes the servant leadership concept to a dysfunctional level and learns something by the end of the book.
The next step will be to finish the detailed outline and write a preliminary synopsis to post on the NaNoWriMo site. Then, the next challenge will be to revise. I anticipate when I do so, I'll end up with at least 10,000 more words, because I can see where some more back story would help the plot. Even as it is though, I'm very satisfied with what I wrote this month.
This experience opened the floodgates of words for me. I can see how it is important to get them out, even if they aren't perfect. I don't have to agonize over each sentence and come up with a multitude of literary devices as I write. I need to tell the story as best I can. The rest can come in future revisions.
For those who were cheering me on and sending me good thoughts, please know that I sincerely appreciate you.
I really like my story and my characters. I think you will, too.
Stay tuned!
Previous NaNoWriMo Posts
NaNoWriMo 2017 – Periodic Updates!