Recently, I fell while running in my basement and broke my right wrist. Yes, you read that right. I run [ran] 5K in an oval in my basement three times a week, because I'm afraid of falling off a treadmill or tripping in a pothole outside. . .
That morning, I caught my toe on the splayed leg of our aged ping-pong table. It seemed like it took about five minutes to hit the concrete floor, and on the way, I had plenty of time to think about how this wasn't gonna be good.
I knew this because about 10 years ago, I was walking the dog, wearing clogs in the rain, and fell on my left wrist, requiring the surgical implantation of hardware that remains there today. I was probably trying to shield that wrist and ended up breaking my right radius into 15 pieces, which somehow managed to stay together, so, I probably won't need surgery (fingers crossed). We're three weeks post-injury, and the bone man will make his final decision next week.
Anyhow, it's bad enough to break your non-dominant arm, but what happens when you break your right wrist, and you're right handed? What do you do when the ER folks are overzealous and splint you up to the tips of your fingers and practically up to your armpit, and you're in it for a week?
You know this will be over in a month or two, and you don't want to abuse your Amazon Prime with dedicated handicap aids, so how do you function? Here are seven tips that won't break the bank, if you're ever without the use of your dominant hand.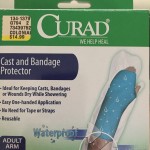 For bathing (a): Pump bottles of shampoo and body wash in the shower. I just happened to purchase these in pump form before my fall, and I'm glad I did. I must be psychic.
For bathing (b): Invest in a commercial cast protector rather than a plastic bag and a rubber band. You can put it on my yourself! Yes, it will set you back about $15, but that's better than having to deal with a wet arm or having to be recasted because you have water in your cast or splint. CURAD® has a good one, but I wish they made a long-arm version. I had one for my last break, but I don't know what happened to it.
To open jars: Use two of those rubber grippers you got at the bank, one on the counter, and one to turn the lid. This really works, and I may use this hack to open spaghetti sauce jars forever! If this doesn't work, you can try placing the jar between your knees and use the rubber gripper to turn the lid.
To open lids, in general: Remember to turn the opposite way than you are used to. It takes an actual thought process to remember this. If you can't get into your pain-med bottle, use the rubber-gripper hack above to push down on the lid. If you have the kind that requires you to push the tab down and then turn the lid, you may need assistance.
For food prep: If you need to slice fruits and vegetables and no one else is around, use an electric knife. If you don't have an electric knife, borrow one, but don't buy one. You can buy plenty of precut fruits and veggies at the grocery store.
To use scissors: I got this tip from a lefty friend. Turn the scissors upside down. Yes, you might pinch your fingers in the smaller hole, but it works.
I hope these tips help you if you ever are without the use of your dominant hand. Do you have any other tips to share with us? Please comment below!
(You might wonder how I typed this post with one hand. I'm happy to say that I have a short-arm cast now, and I started typing with both hands two days ago, thanks to ibuprofen!)
Update: June 27, 2017 – Even my English major eye could tell that the bone didn't look good on the X-ray this this morning. So, there will be surgery later this week. I guess I'll get to use my new skills for a bit longer!
Update: July 23, 2017 – Surgery went well, and I'm on the road to recovery. I have a removable splint, instead of a cast, so I was able to start PT one week after surgery!
Update: October 11, 2017 – Here are some things that breaking my dominant wrist taught me:
7 Things I Learned After Breaking My Dominant Wrist.