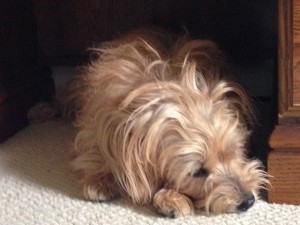 Nora spent some more time at the vet last week. She wasn't too happy about being left there and gave me genuine "puppy dog eyes" that tore my heart out. She had another X-ray to see if her bladder stones were gone and also an ACTH stimulation test to see if the Vetoryl is being effective in treating her Cushing's disease.
It takes nearly a week for the ACTH results to come back from the lab, so we just received a phone call from the vet yesterday, which was Monday. The call had its highs and lows.
Nora's bladder stones are pretty much gone, so she switches from the Hill's Prescription S/D, which breaks up the stones, to Hill's Prescription C/D, which should prevent them from coming back again. Nutmeg, her sister, can eat the same food, too. You might think that financially, this is a bad thing, but for us, it will actually be cheaper than the natural food I was buying them from our local co-op.
Unfortunately, regarding the Cushing's disease, the results came back as "borderline lack of control." The value for the second blood draw should be between 1.45 and 5.4, and Nora's was 6.9. Between 5.4 and 9.1 is borderline, and if she hadn't been displaying some troubling symptoms, the vet might have kept her dosage the same to see if things improved.
During my conversation with the vet, I told him that starting on Friday evening, she was panting a lot and seemed in distress. We were pretty worried. By Saturday morning, she was acting almost normal. The same thing happened Saturday and Sunday evenings. She is still drinking a lot of water and going through a lot of puppy pads, in addition to being let out a dozen times a day. She is also not tolerating her walks very well and has to stop and rest.
These symptoms contributed to the vet's decision to increase her dosage of Vetoryl from 30 mg to 40 mg per day and test her again in two weeks. He said if I could get to the vet's office rather quickly, I could give her the 10 mg capsule right away rather than waiting until morning to give her the 30 mg and 10 mg capsule. So, that's what I did.
As I write this on Tuesday evening, she's lying on the floor next to me, and her breathing is audible. When I returned home from a meeting about an hour ago, it seemed that her condition had deteriorated. She's walking very slowly and seems to be very uncomfortable. I gave her a Rimadyl for pain, and we're waiting for that to kick in.
Unfortunately, at this point, her future seems uncertain. When I spoke to the vet last week after her tests, he said that many dogs can live years, if they do well on the medication. I asked what he meant by "years," and he said two-to-four. From my research on Vetoryl, I learned that this drug, which can prolong her life, will eventually end it, because it takes a toll on the body. The vet concurred with what I had learned.
As I stated in my last post about Nora's illness, this is what we sign up for when we adopt a pet. Almost always, we outlive our furry friends. I hope for Nora to live the four years, but at this point, I wonder if she'll be here four weeks from now. We will take it one day at a time, and we will help Nora along her journey with the help and advice of her veterinary professionals. The financial impact of her illness is significant, but manageable, for now. At this point, her quality of life is at a level that it makes sense to keep going on this course of treatment. She has her uncomfortable periods, but she also has better moments when she'll chase after a ball.
If you've read this far, you're probably the type of person who understands how we feel about Nora. To us, she's not a possession, nor an object. She's part of the family. Let's hope her medication kicks in, and I will be able to share better news in my next update.
Ann Silverthorn writes about a wide variety of topics in numerous genres, including non-fiction, fiction, poetry, travel, and grant writing.
Twitter: @annsilverthorn
Instagram: ann_silverthorn