One of the challenges we've faced since adopting our two Cairn Terrier rescues, Nutmeg and Nora, has been their violent clashes. Usually, these incidents occur when I'm petting them. It seems that one will think the other is encroaching on her turf and will start a low growl. Then, their eyes fix on each other, and Nutmeg starts her vicious snarling.
As long as I hold onto Nutmeg's collar, there isn't any physical violence. Nora stays just far enough away and lets her sister have it with her indignant, high-pitched yelping. It sounds as if her feelings are hurt and she's ready to start sobbing.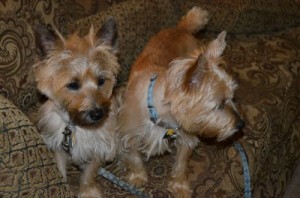 Either one can initiate a brawl, but the one who usually carries it to the point where it gets physical is Nutmeg. They had an altercation recently, and I held Nutmeg back until the situation stabilized. When there was a miniscule break in the action, I petted Nutmeg and praised her. Then I did the same with Nora. Before I knew it, they both became calm and started to play. I lavished praise upon them both then, and all was calm again.
As you can see, we just sort of wade our way through this experience of adopting dogs with a history with lots of love sprinkled with bit of discipline. I haven't done any research on dogfights, and although the situation has drastically improved since Nutmeg's urinary tract infection has been addressed, research would certainly be in order.
Have you ever had this experience? If so, let me know how you approached the issue of fighting between sibling dogs.
Next time: How Nutmeg and Nora Get Along